by Cory Visser
Thursday Recap Report-Weekend Possibilities:
A Summary of local fishing from Santa Monica to Oceanside, including Catalina and San Clemente Islands, with fishing trips out of San Diego down to Baja, Mexico.
The fishing is so good right now that
not
catching an
Offshore Grand Slam
is becoming a rarity.
Bluefin Tuna, Yellowfin Tuna, Dorado and Yellowtail
equals an offshore slam! There is quality fishing well within range of the private boater as well as ½ day and ¾ day boats. Yellowtail and Dorado have moved solidly into US waters with lots of fish being caught as close as Dana Point. I am hopeful that the Yellowfin Tuna make their way up the line, especially those that like to hang with the Porpoise. Three years ago the Yellowfin Tuna fishing was epic between Catalina and San Clemente Island. Those fish averaged 30 to 40 pounds. So far the schools of Tuna are averaging 12 to 20 pounds with an occasional bigger model mixed in.
Have not heard of too many reports of Yellowfin swimming with the porpoise yet, however, I went fishing on Wednesday, 09-18-13 and we found a huge school of porpoise holding big Yellowfin Tuna, as we saw 40 and 50 pounders jumping out of the water. Trolling through the Porpoise we had a double hook up, we caught one Yellowfin Tuna at 15 pounds, darn, and a similar size Skipjack. Having already had an epic day off a magic Kelp Paddy earlier, we were limited out and did not pursue the school of porpoise any further.
Some pictures of our private boating experience some 40 miles south of the border: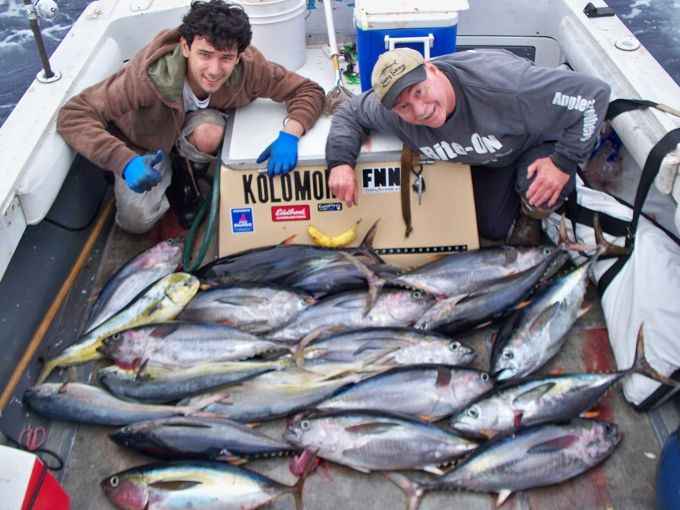 Have not heard about any recent trips to the
Cortez Bank
, as there has been solid fishing closer to port.
Marlin
reports remain scarce, although those that are targeting them have caught some Billfish.
A huge
Opah
off the
Freedom
yesterday, to go with lots of Tuna and Tails:
The
Coronado Islands
for the moment are a forgotten destination with so much action elsewhere.
Private boater Brandon and friends with some Slug Tuna and Dorado:
Angler Darren with a dandy Dorado:
The
Fortune
scores well on a weekend trip:
Tuna off the
Pride
:
Colorful Dorado off the
Tribute
over the weekend:
Searcher Yellowfin Tuna
:
San Clemente Island
continues to yield some good counts on
Yellowtail
with lots of Rockfish, Whitefish and Sheephead to go with some Calico Bass fishery.
Every now and then the Yellowtail are being caught at
Catalina
, as the
Pursuit
managed to land 20 Yellowtail on their Monday trip, 09-16-13. The good news for the island is the appearance of
Bonito
as well as a return of
Barracuda
. The Pursuit managed limits of Bonita and a dozen Barracuda on their Thursday trip.
Fishing off of
Ensenada
is primarily targeting the offshore Tails and Tuna.
Locally things have not changed much, with few
Twilight
trips being scheduled! The local boats are doing well on catching Sculpin and Rockcod, and I am sure looking forward to some offshore
Kelp Paddy
action within range!
How about
local Dorado
fishing off the
Sum Fun
out of
Newport Beach
:
Pretty ladies that fish or maybe not:
The
Channel Islands
did not do well on the
White Seabass
this week, nor did they find many Halibut, fishing primarily for Rockfish. A few nice
Halibut
caught Monday, 09-16-13:
Good fishing on the
Stardust
:
Stardust big Lings:
The Islands
Catalina/Santa Barbara Island!
Bonito moving into the island has brought excitement as well as the return of some Barracuda.
Angler Sergio and friends fishing the
Pursuit
, Sunday, 09-15-13:
The
Sport King
has caught a few Tails daily at the Island and is now concentrating on Bonito action.
San Clemente Island!
The Yellowtail are there just not many boats making the trip to the island.
Down South-San Diego and good ole Mexico!
Now this is what I call excellent ½ day boat fishing off the
Dolphin:
Captain Duane of
Seasons Sportfishing
puts them on the fish over the weekend:
Nice Bluefin Tuna under the birds:
Captain Jamie also of
Seasons
turned in a report for their recent trips and here are some pictures: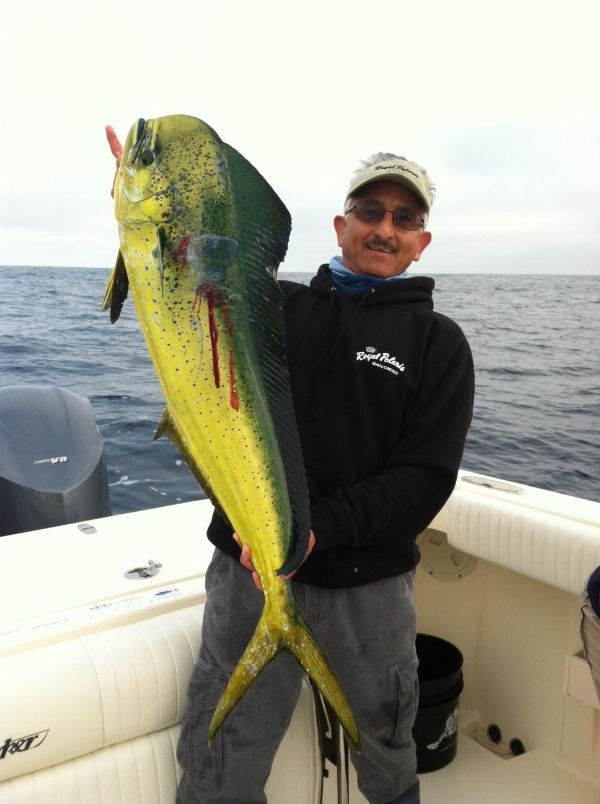 Captain Louie on his charter boat
Its 4 Reels
had a good offshore trips for Tuna, Dorado and Tails!
Captain Kelly finds the Bluefin, Yellowfin and Yellowtail on the chew in San Quintin offshore:
Quote of the day, something to think about:
All comments and suggestions welcomed!
Weather
The weather forecast for Saturday looks good, not so good for Sunday with lots of wind. Always check the latest forecast before leaving the dock.
Hook Up,
Cory