by Cory Visser
Thursday Recap Report-Weekend Possibilities:
A Summary of local fishing from Santa Monica to Oceanside, including Catalina and San Clemente Islands, with fishing trips out of San Diego down to Baja, Mexico.
Can you believe they are still catching
Bluefin Tuna
in November? Yep the
Eclipse
finished up their 2 day trip Tuesday, 11-05-13 on a high note. They got a sundowner surprise, a last gasp mind you as they had virtually no fish in the sacks until they found a huge school of Bluefin on the chew at 6pm. The 23 anglers on board ended up landing 63 Bluefin Tuna. Many other boats on 1.5 or longer trips over the weekend caught some Bluefin Tuna. Some boats scratched out a few
Yellowfin Tuna
with their Bluefin Tuna and some caught limits of
Yellowtail
.
The biggest problem for most boats now is the lack of reservations for Offshore trips? So the Fat Lady is singing despite the fact the Exotics are still around. There is no doubt that this was the best Bluefin Tuna fishing in the last 30 years or more? It was also one of the highest counts of Yellowtail caught, although shameful that so many were less than 10 pounds! Will this affect our future fishing of these hard fighting, tasty creatures, which remains to be seen?
Not much happening in
Ensenada
lately either?
It might be worth a trip to
San Quintin
for a last shot at the Tuna and some larger model Yellowtail. As they say always good critter fishing down there.
The
Bonito
bite slowed down at
Catalina
, although as many as 20 Bonito were caught early in the week on the Pursuit, however most of the boats are simply fishing for Rockfish. There have not been many reports from
San Clemente
either. Perhaps there are some home guard Yellowtail still hanging around?
I fished at San Clemente with Dave on Wednesday, 07-06-13. The water was clear deep blue and 64.5 degrees on the west end, very fishy looking. We avoided the east end as the Navy declared it was closed in numerous areas. We caught limits of Rockfish, not too many Reds, lots of Santa Marias, too many Bocaccios to count, some Coppers, two Lingcod and some Johnny Bass. Some pictures: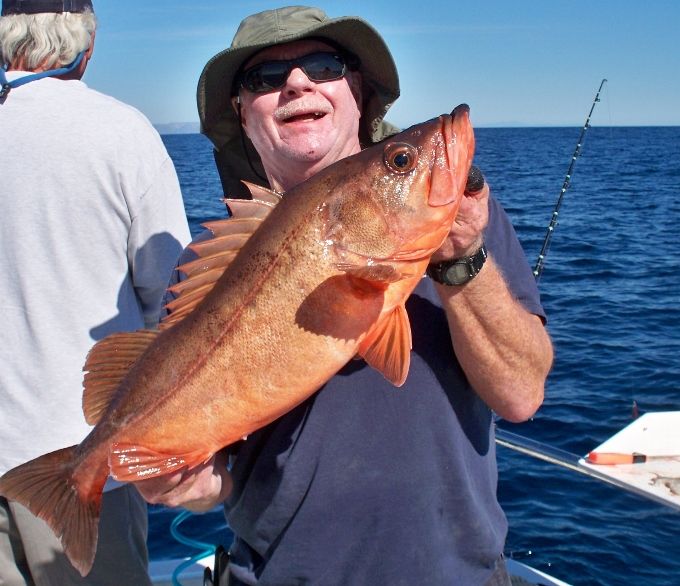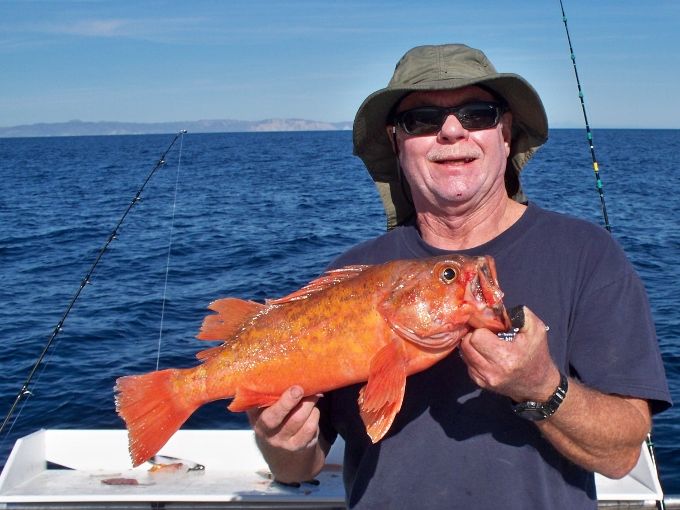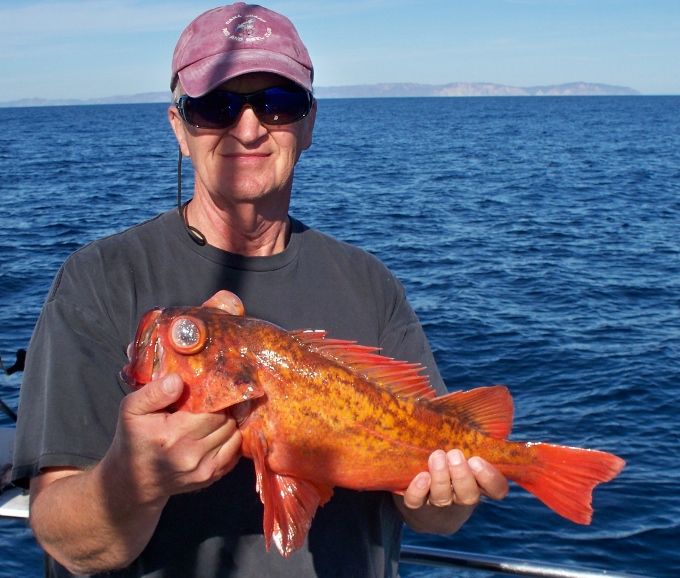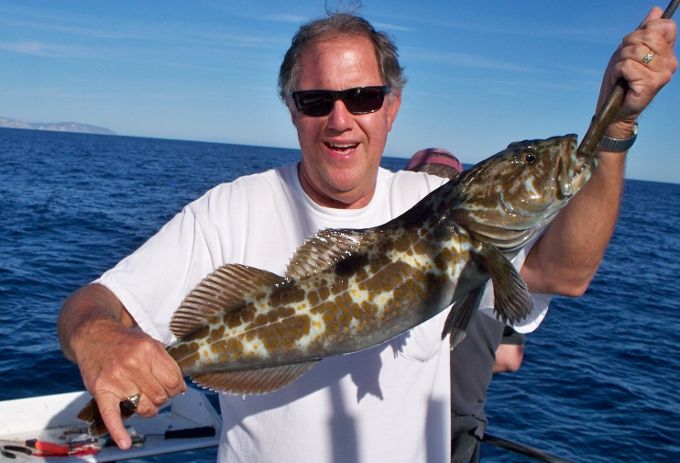 The
Toronado, El Dorado
and other boats have scheduled weekend trips to
San Nicolas Island
, which target shallow water Rockfish and big Lingcod, certainly something to keep in mind.
Pretty ladies who fish or maybe not:
The
El Dorado
out of
Long Beach Sportfishing
had a couple of great trips at San Nicolas Island over the weekend:
A huge Barracuda caught on the El Dorado:
A big Sheephead caught locally out of Dana Point on live squid:
Davey's Locker
is the only landing that is scheduling
Twilight
trips this year! This seems to be the only way to catch a decent amount of Sand Bass lately.
Young private angler fishing the plastics catches this Dandy Sandy, Monday-11-04-13:
I fished with friend Lal on the Rubber Ducky Saturday, 11-02-13. We found the Bass fishing extremely slow despite outstanding tides and great weather, although little to no current. We added some Sculpin and Rockfish to the nine Sand Bass we caught, all fish released to fight another day.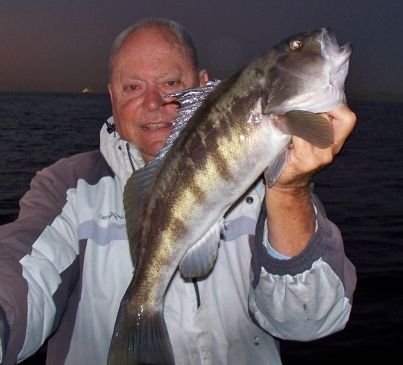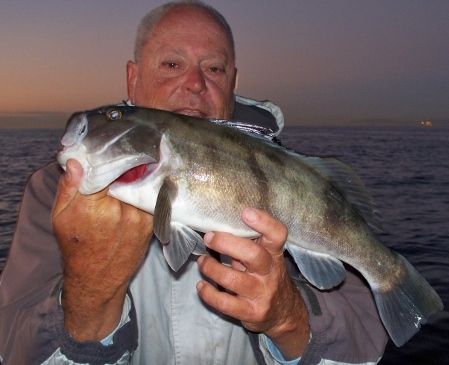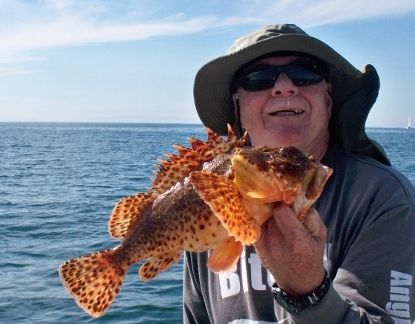 Angler Ron fished on the ¾ day boat
Victory
out of
Pierpoint Landing
Wednesday, 11-07-13 and they did well on the Rockfish. Some pictures:
Private boater Joshua bay bass'n out of
Dana Harbor
:
How about some good fishing on the
Ultra
with limited loads to the local Islands:
The
Channel Islands
are back to fishing primarily for Rockfish. A few nice Halibut are being caught with an occasional Yellowtail, White Seabass and a spot of Barracuda adding to the action.
The
Sea Jay
caught these two big Halibut of 39 and 42 pounds on their weekend trip:
The
Aloha Spirit
fishing the
Channel Islands
out of Oxnard on Saturday, 11-02-13 caught 30 Yellowtail, 8 White Seabass and three big Halibut:
Huge Sheephead caught Thursday, 11-0713:
Continued good fishing on the
Stardust
up north:
The Islands
Catalina/Santa Barbara Island!
Both the ¾ day boat
Freelance
and the
Pursuit
are doing well on the Rockfish, along with a few Calico Bass, Whitefish, and Sheephead.
San Clemente Island!
Very quiet this week.
Down South-San Diego and good ole Mexico!
Yep, ½ day boat fishing off the
Dolphin
catching big Halibut Sat.-11-02-13:
And how about a Sheephead:
Private boaters on the
Lucky B
catch some nice Reds and Sheephead on Friday, 11-01-13 on the live squid:
Yep the squid are floating:
Captain Duane of
Seasons Sportfishing
is solidly into the Fall fishing for big Lingcod and Vermillion Rockfish:
Captain Kelly says the Tuna and the Dorado are still biting in
San Quintin.
Quote:
Humor:
All comments and suggestions welcomed!
Weather
The weather forecast for Saturday and Sunday looks to be as flat as a pond, excellent and very fishable. Always check the latest forecast before leaving the dock.
Hook Up,
Cory