by Cory Visser
Thursday Recap Report-Weekend Possibilities:
A Summary of local fishing from Santa Monica to Oceanside, including Catalina and San Clemente Islands, with fishing trips out of San Diego down to Baja, Mexico.
Well that Fat Lady did finally sing, although a 1.5 day trip did yield 2
Bluefin Tuna
and lots of Yellowtail? The 3 day trip on the
Pacific Voyager
ended with 148 Yellowtail and over 300 Rockfish. That's about it for the exotics. The Tuna may still be out there, as water temps remain in the mid-sixties, however, there are not enough boats out to cover the area and find the schools of fish.
With many boats in dry dock working on winter maintenance, there are the usual freezer specials being scheduled. For example the
Chief
has weekend 2.5 days offered to fish Colonet, San Martin and other points south of the border. Locally trips to
San Nicolas Island
for shallow water Rockfishing is a popular trip on the
Toronado, El Dorado
and perhaps other charter trips.
Other than offshore,
Yellowtail
seem to be on vacation, with few signs of them anywhere at the Islands or along the coast. A few Yellowtail have been caught up north at the Channel Islands.
It was very quiet in
Ensenada
this week, with no exotics reported?
It might be worth a trip to
San Quintin
as some larger model Yellowtail to 26 pounds is being caught. As they say always good critter fishing down there.
There are still a few
Bonito
being caught at
Catalina
, although most of the boats are simply fishing for Rockfish.
There have not been many reports from
San Clemente
either. Perhaps there are some home guard Yellowtail still hanging around, although none reported lately?
I fished San Clemente Island yesterday, Thursday, 11-14-13 with private boater Dave and crew of Ron, Jim, Kevin and John. The ocean was grease calm all the way to the Island. The water was clear deep blue and 64.5 degrees in Pyramid. As we turned the corner to move up the backside it was quite bumby, and by 9:30 am a bit breezy. We still caught limits of Rockfish, 25 Reds, lots of Santa Marias, too many Bocaccios to count, some Chili Peppers, Bank Perch, and I caught a 15 pound Lingcod. Some pictures: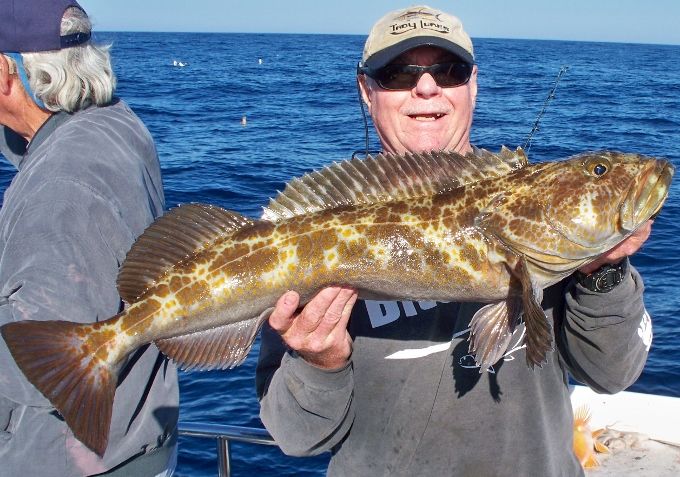 Here is Jim with a nice Santa Maria: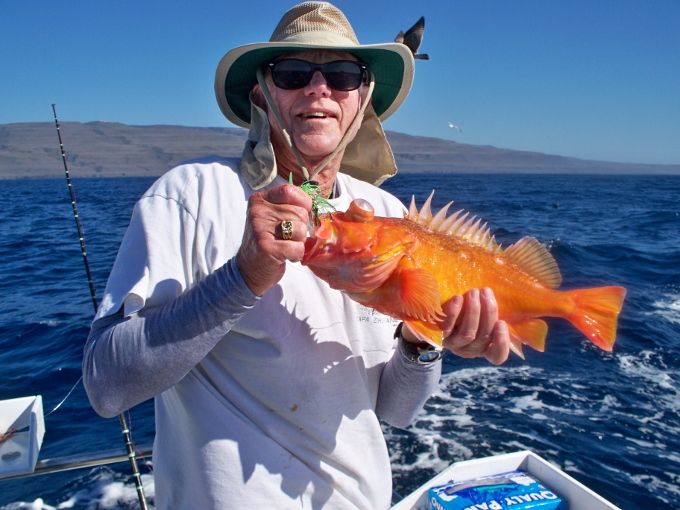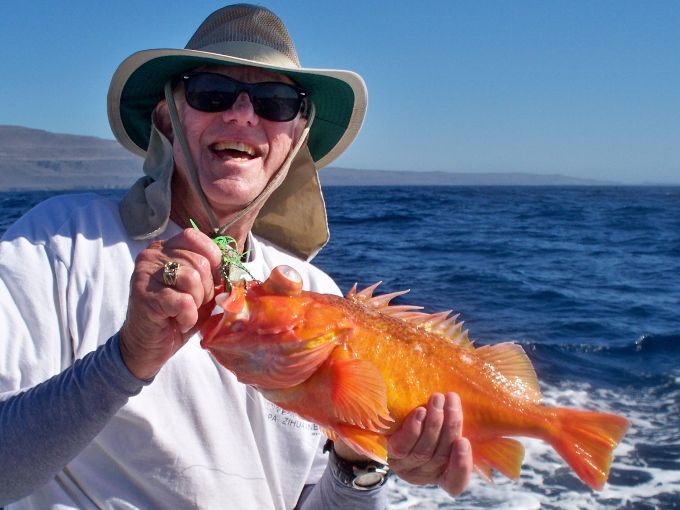 Here is Jim with one of his Reds caught today: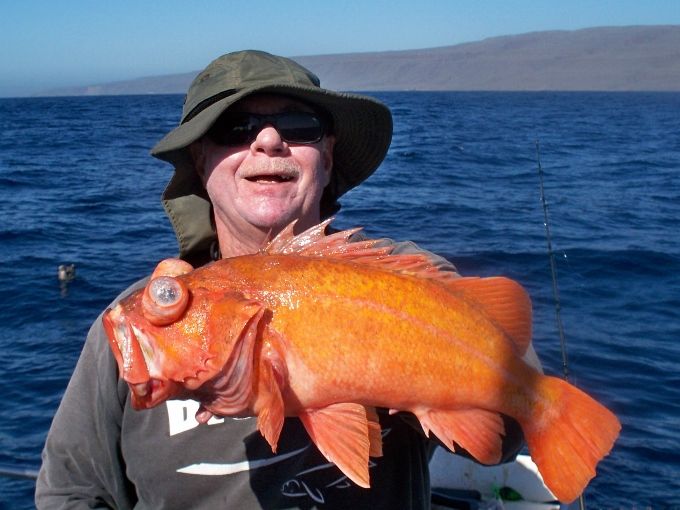 Some pictures from Dave's Saturday trip where they caught 80% Reds and a couple of nice Lingcod:
El Dorado San Nicolas Island
:
Angler David with a nice Halibut, Lingcod and some big Sheephead off the 2 day Pacific Star trip over the weekend:
Pretty ladies who fish or maybe not:
I did not see any Twilight trips reported this week!
Private boater Lal fished on his boat the Rubber Ducky several times this week with friends. He found the Bass fishing on the slow side, yet managed to catch limits plus on the Sand Bass to four pounds. With little to no current in calm seas the fishing remained slow. They fished Izor's Reef, the Newport Pipe and the oil Rig's over the several days' they fished. They caught some Sculpin and Rockfish to go with the Sand Bass caught, all of the Bass and some of the Rockfish were released to fight another day.
Angler Ron fished on the ¾ day boat
Victory
out of
Pierpoint Landing
Wednesday, 11-13-13 and they had just an OK day on the Rockfish. Some pictures:
And the winner is:
Angler Richard with a nice Halibut off of Seal Beach, Sunday, 11-10-13:
Angler Sergio with some nice Reds caught on the
Enterprise
Sunday, 11-10-13:
Larry and Dorie with more Reds off the Enterprise:
Sergio did some private boating on Thursday with friends and they caught a good variety of Bass and Rockfish at the wall.
The
Channel Islands
are back to fishing primarily for Rockfish. A few nice Halibut are being caught with an occasional Yellowtail and a spot of Barracuda adding to the action.
Continued good fishing on the
Stardust
up north:
The Islands
Catalina/Santa Barbara Island!
Both the ¾ day boat
Freelance
and the
Pursuit
continue doing well on the Rockfish, along with a few Calico Bass, Whitefish, and Sheephead.
San Clemente Island!
Very quiet this week, lots of great Rockfishing.
Down South-San Diego and good ole Mexico!
Captain Duane of
Seasons Sportfishing
is killing the big Lingcod, Vermillion Rockfish, and an occasional Cow Cod on their fall freezer specials: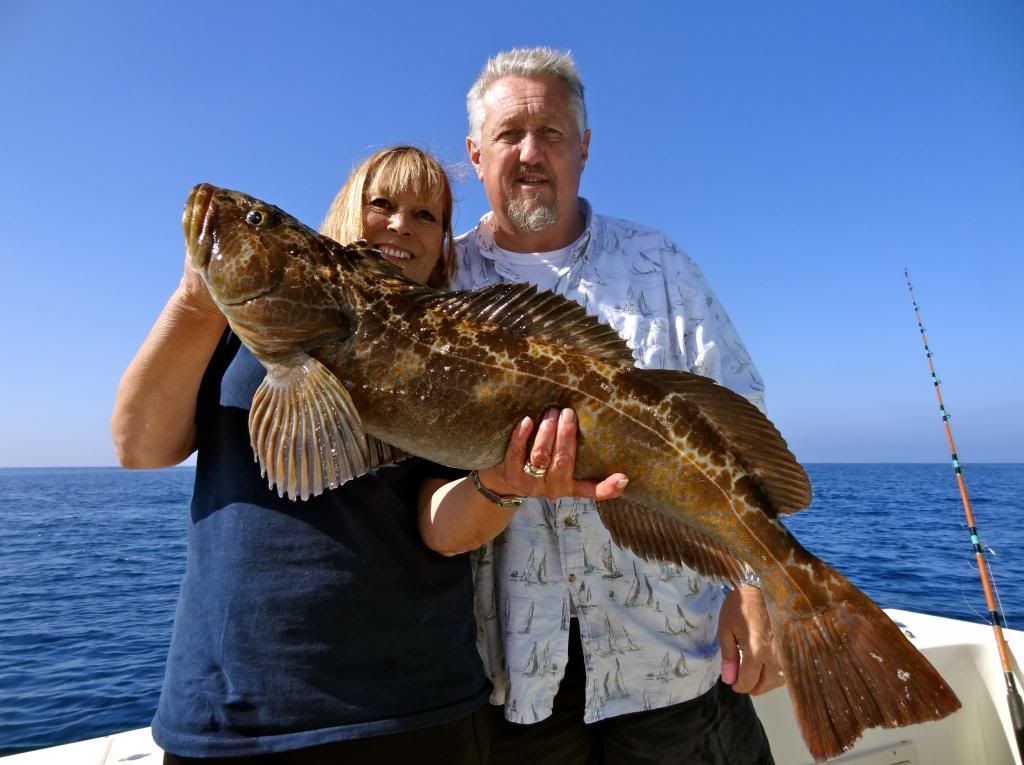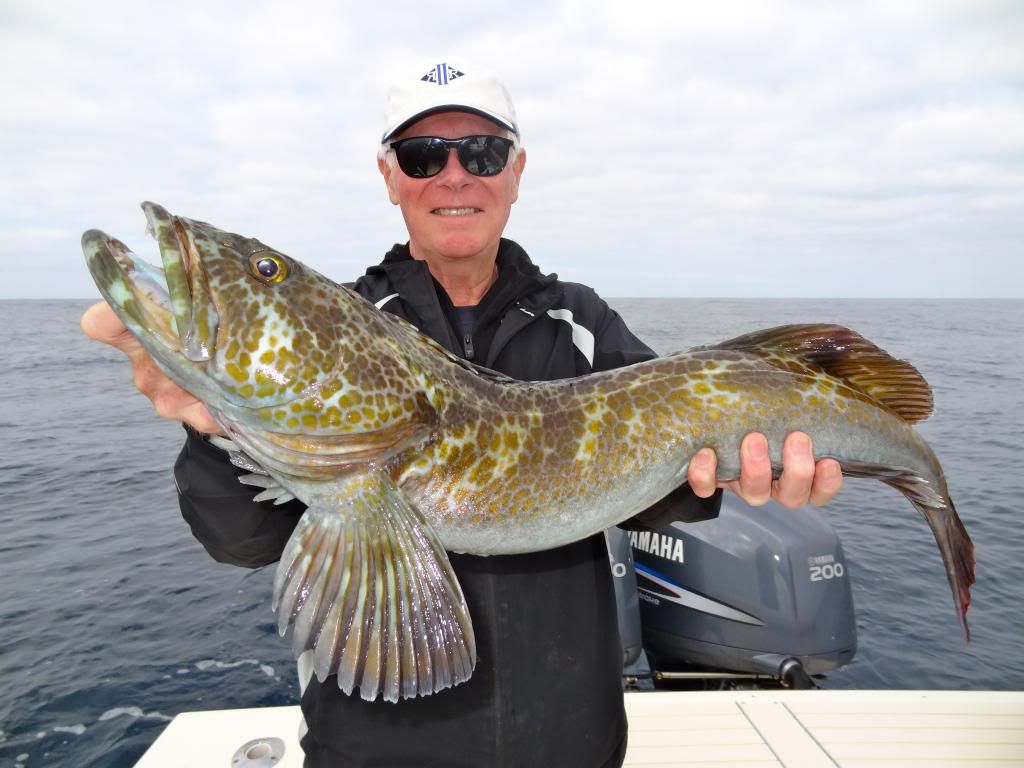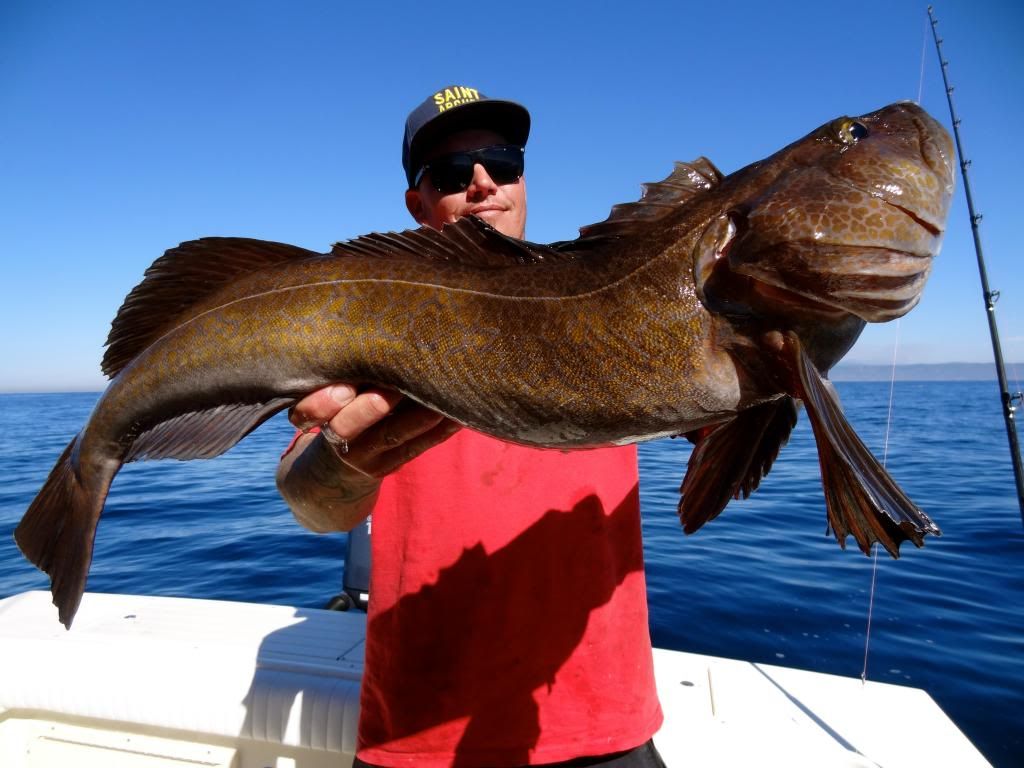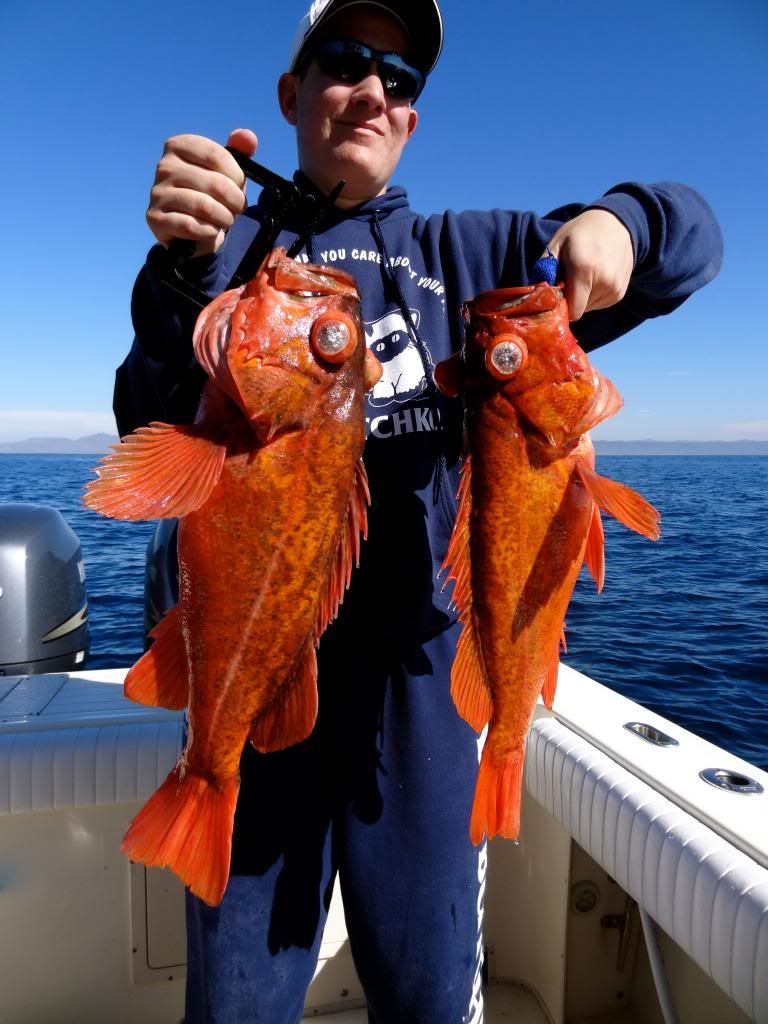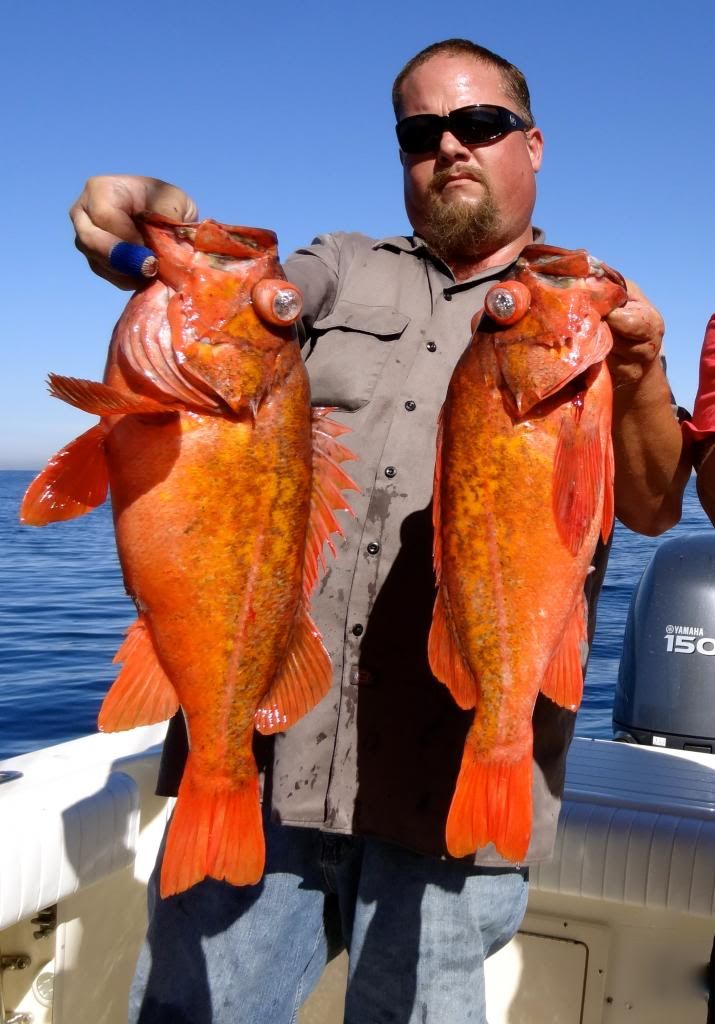 Nice Cow Cod: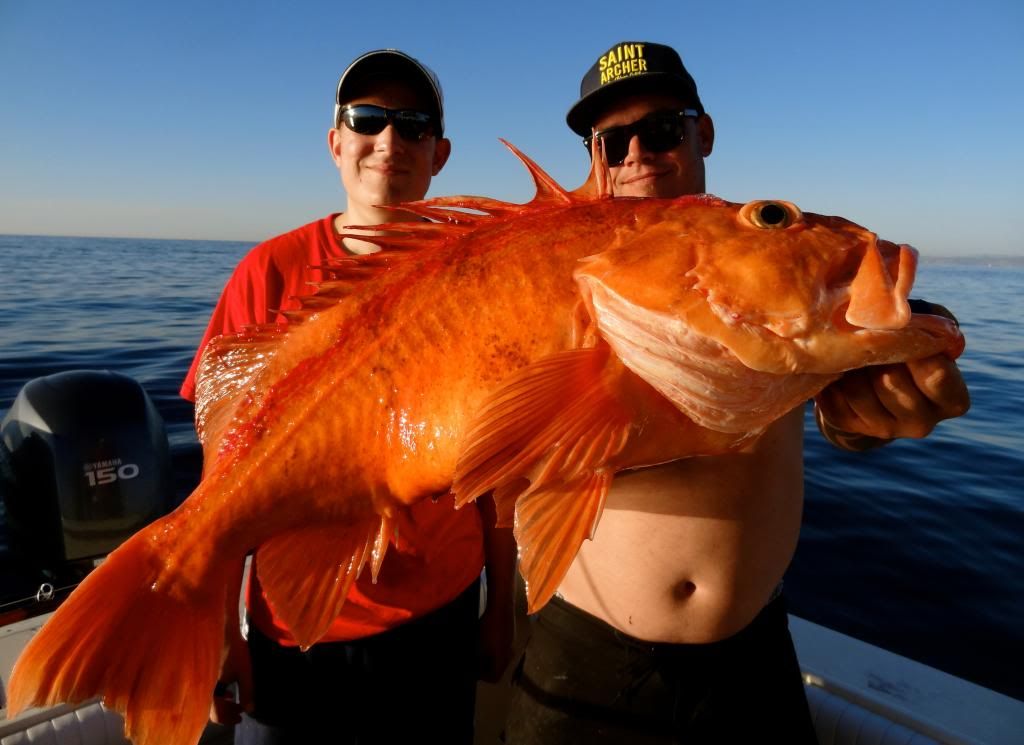 Now this is a huge Tarpon:
Humor:
All comments and suggestions welcomed!
Weather
The weather forecast for Saturday and Sunday looks to be as flat as a pond, excellent and very fishable. Always check the latest forecast before leaving the dock.
Hook Up,
Cory