by Cory Visser
Thursday Recap Report-Weekend Possibilities:
A Summary of local fishing from Santa Monica to Oceanside, including Catalina and San Clemente Islands, with fishing trips out of San Diego down to Baja, Mexico.
With the rains and wind gone we experienced some of the most spectacular weather this week. Those that found time to go fishing had some great times. Most boats are fishing
Freezer Specials
, catching plenty of Reds, Lingcod and other Rockfish with some huge Sheephead, Whitefish and Sculpin filling the sacks. For a change of pace the
Pacific Adventure
is running a Sand Dab special out of
22nd St. Landing in San Pedro
. The
Ultra
fished one of the Islands Saturday and caught 2 Yellowtail for their six anglers plus the usual assortment of Rockfish. Bass fishing remains very slow, while an occasional Halibut is added to the count.
After a brief few days of being MIA the
Bonito
returned to
Catalina
, although it was not limit style fishing, with counts in the 30's and 40's for several boats, like the Pursuit and Freelance who are fishing the Island regularly.
The
El Dorado
has been fishing shallow water at
San Nicolas Island
and the weather has contributed to awesome catches, with plenty of Lingcod, as recent trips have seen 50 and 60 counts on the Lingcod.
Angler Pam fished a 2 day weekend trip on the
Pacific Star
at San Nicolas Island and whacked the Rockfish, Whitefish and Sheephead. Some pictures:
A nice batch of Lingcod caught off the Ultra:
It remains very quiet in
Ensenada
with no exotics reported?
San Quintin remains
the only option to catch Yellowtail of late, plus an incredible assortment of Lingcod, Reds and Rockfish in both deep and shallow water.
No new reports from
San Clemente
this week. There is plenty of excellent Rockfishing to be achieved, both deep and shallow.
Pretty ladies who fish or maybe not:
Private boater Lal fished on his boat the Rubber Ducky with friend Mark Monday. They caught both Sand Bass and a Calico Bass with some Sculpin, Cabazon and Rockfish, all of the Bass and most of the Rockfish were released to fight another day.
Angler Paul with a 17 pound Sheephead caught on the ½ day boat Monte Carlo, Tuesday, 11-26-13:
Angler Ron fished on the ¾ day boat
Victory
out of
Pierpoint Landing
Wednesday, 11-27-13 and they did well on the Rockfish. Some pictures:
Private boater Tyrone with a nice Halibut caught out of Long Beach, 11-27-13:
The
Channel Islands
are back to fishing primarily for Rockfish. A few nice Halibut are being caught with an occasional Yellowtail. The quantity and quality of Sheephead being caught is outstanding.
Continued good fishing on the
Stardust
up north:
Big Cabazon:
The Islands
Catalina/Santa Barbara Island!
Not often you see a Sheephead beat out a nice Lingcod for Jackpot? Caught on the
Liberty
at Catalina, Monday, 11-25-13:
Both the ¾ day boat Freelance and the Pursuit are doing well on the Bonito, Rockfish, along with a few Calico Bass, Whitefish, and Sheephead.
San Clemente Island!
Some great private boating Calico action over the weekend:
Private boater Dave fished the Island on Saturday and again on Tuesday with exceptional counts on the Big Reds and Santa Marias.
Down South-San Diego and good ole Mexico!
Captain Duane or Jaime of
Seasons Sportfishing
have been killing the big Lingcod, Vermillion Rockfish, and an occasional Cow Cod on their fall freezer specials. As the weekend was windy, there were no recent reports or pictures.
The
Dominator
with a great weekend catch:
An enormous Red:
I fished with private boater Bill out of Las Salinas, (22 miles north of Ensenada) where we found the shallow water fishing for Lingcod, Johnny Bass, Copper Rockfish, Bocaccio and other Rockfish to be sensational. Some pictures: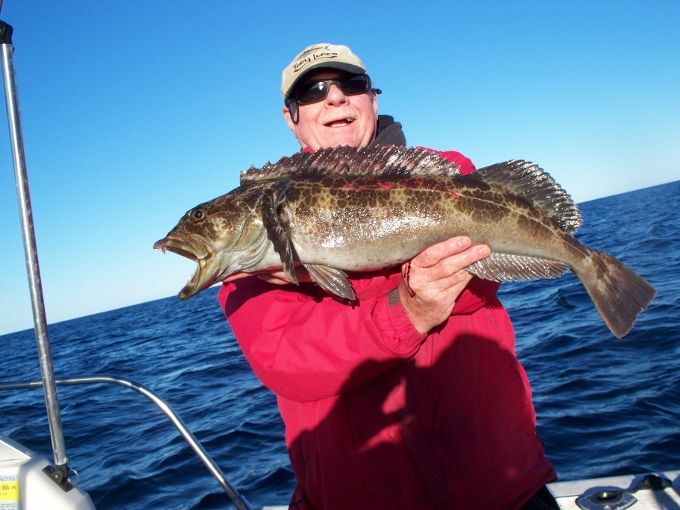 Myself with a pesky Bocaccio: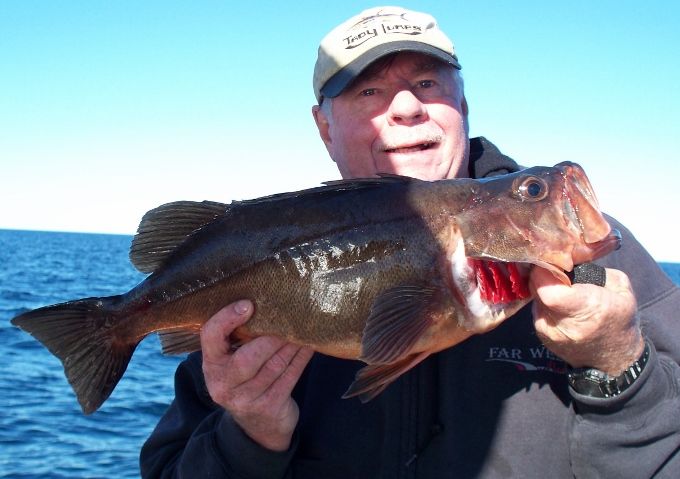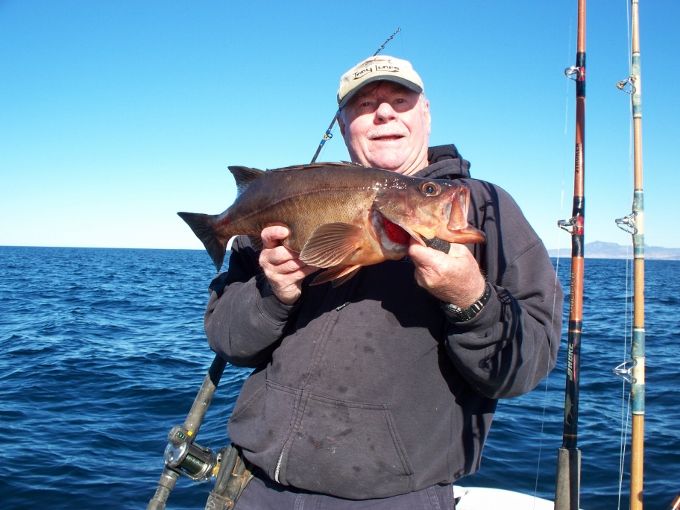 A nice Copper Rockfish: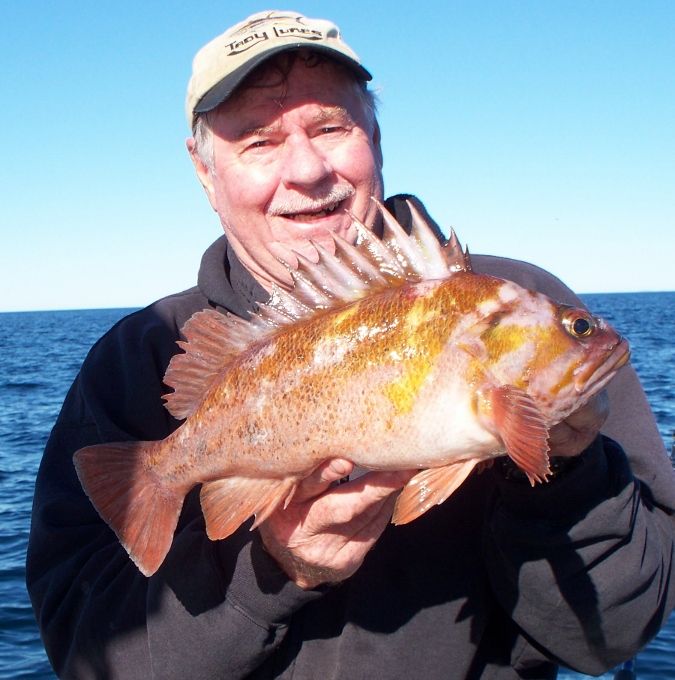 A few Calico Bass wanted to play as well: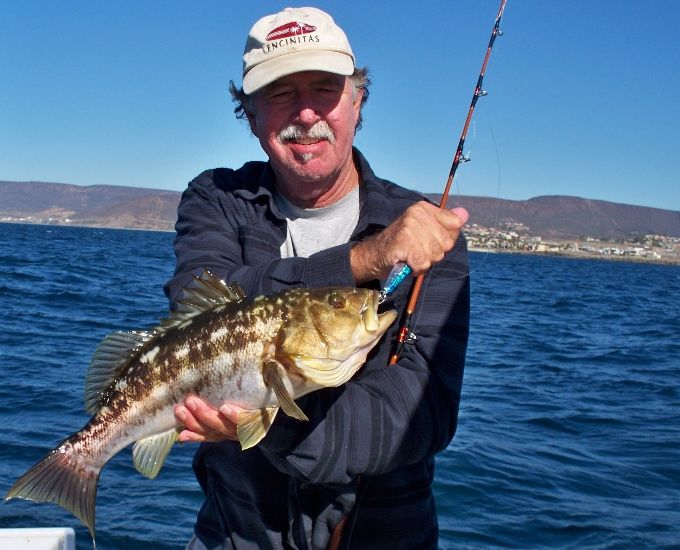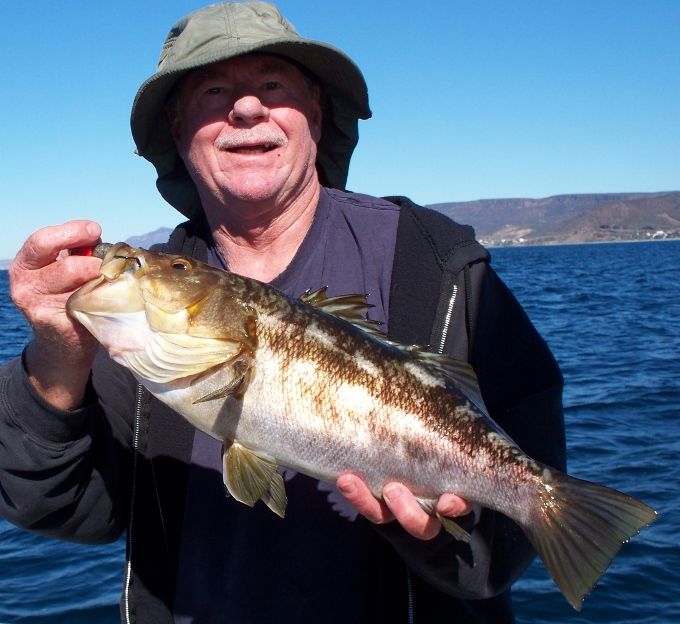 And a lone Sand Bass: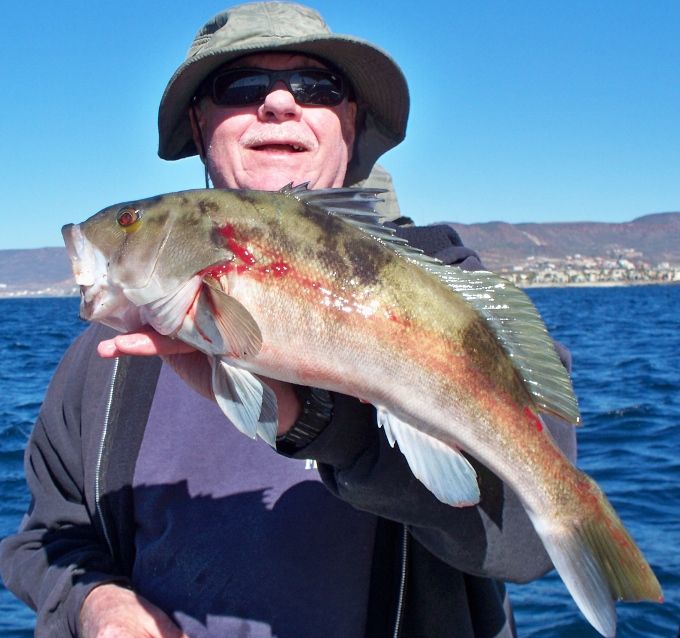 Private boater Todd and friend had a great day on the water fishing out of Point Loma for Lingcod and Rockfish:
How about an 81.4 pound Yellowtail caught off the Apollo on a six day trip:
Quote:
Count your blessings:
Humor:
All comments and suggestions welcomed!
Weather
The weather forecast for Saturday looks to be calm in the morning, while Sunday looks to be a bit breezier yet very fishable. Always check the latest forecast before leaving the dock.
Hook Up,
Cory