by Cory Visser
Thursday Recap Report-Weekend Possibilities:
A Summary of local fishing from Santa Monica to Oceanside, including Catalina and San Clemente Islands, with fishing trips out of San Diego down to Baja, Mexico.
Despite a deep freeze, wind and rain a few folks got out on the water during the week and the fishing was excellent for all sorts of Bottom Critters. Very quietly the home guard
Yellowtail
have gone off at
Catalina
, as the
Pursuit
caught 10 Yellowtail to 25 pounds on Tuesday, 17 Wednesday and 5 Yellowtail to 30 pounds on Thursday. Other than 976-Tuna no one has posted a report? Some pictures off the 22nd St. Landing home page:
Neither the Sport King nor the Freelance went fishing this week, so they missed out on the fun ar Catalina.
The
El Dorado
fished the shallow water at
San Nicolas Island
on Monday, 12-09-13 and caught 6 Lingcod, to go with limits of Rockfish, some big Sheephead and Whitefish.
Angler Jimmy with a Jackpot winning Sheephead off the ½ day boat
Clemente
, out of
Dana Point
, Sunday, 12-08-13:
Angler Norman with a 17 pound Halibut on the plastics in the rain Saturday:
And his son Tyrone with a just legal Halibut:
Private boater John with a good catch on the Reds, Sunday, 12-08-13 out of Long Beach:
A 20 pound Halibut caught off the
Monte Carlo
Thursday, 12-12-13:
It remianed very quiet in
Ensenada
this week?
San Quintin
did not have any new reports of Yellowtail being caught, although the weekend weather certainly affected the number of anglers fishing. There is always an incredible assortment of Lingcod, Reds and Rockfish in both deep and shallow water available.
Pretty ladies who fish or maybe not:
Angler Chris with a nice Spotted Bay Bass off of Long Beach:
Angler Rusty with a big Lingcod caught on the ½ day boat out of Newport Beach, Thursday, 12-12-13:
The Channel Islands are exclusively fishing targeting Rockfish. An occasional nice Halibut is being caught. The quantity and quality of Sheephead being caught is outstanding.
Continued good fishing on the
Stardust
up north:
The Islands
Catalina/Santa Barbara Island!
The Pursuit found the Yellowtail on the chew and are still doing well on the Rockfish, along with a few Calico Bass, Whitefish, and Sheephead.
San Clemente Island!
I fished with Private boater Dave at the Island on Wednesday, 12-11-13 and we whacked the Big Reds, Coppers and Santa Marias. A few pictures: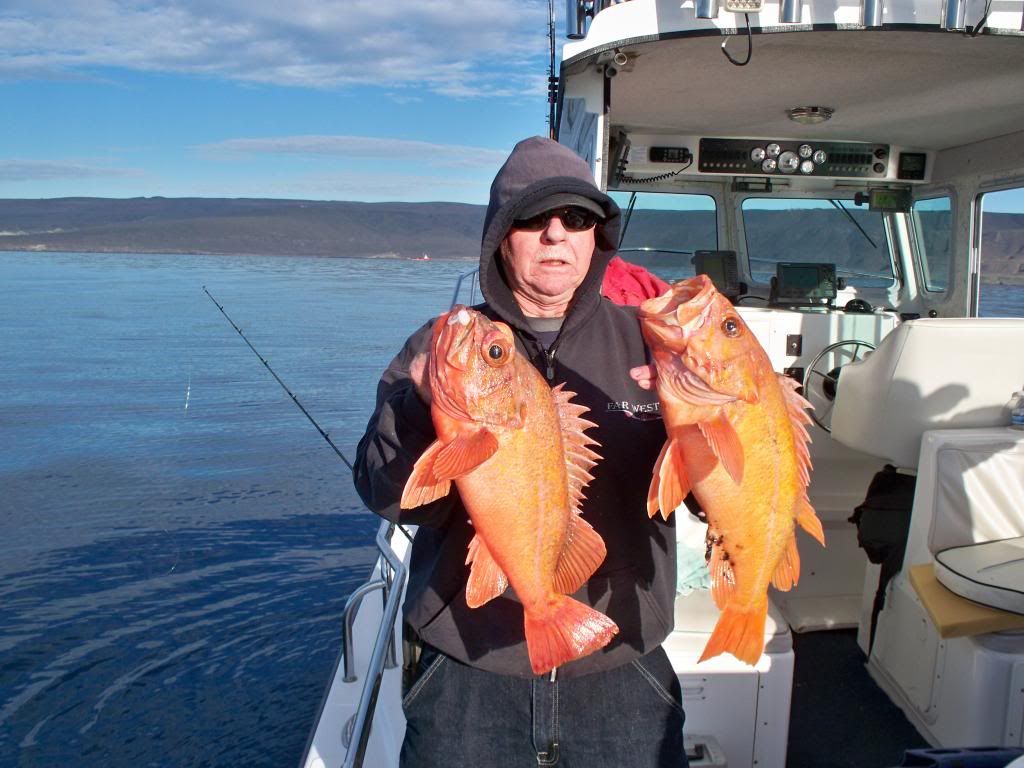 Here is Jim with a nice Copper Rockfish: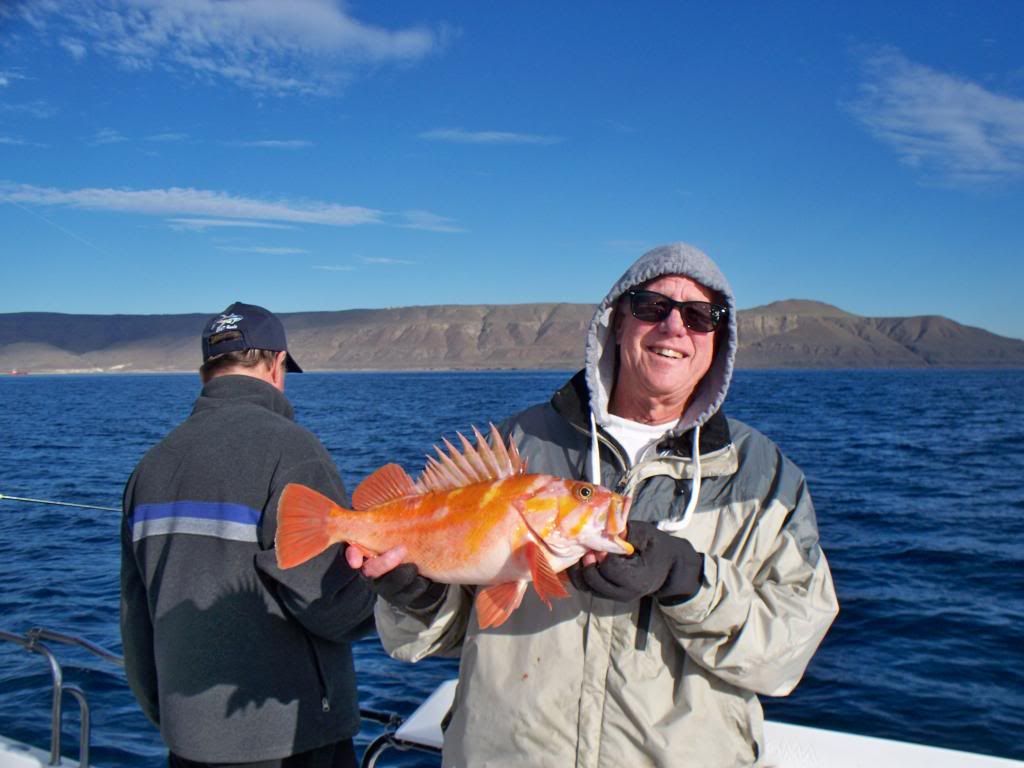 Here I am with a nice Copper: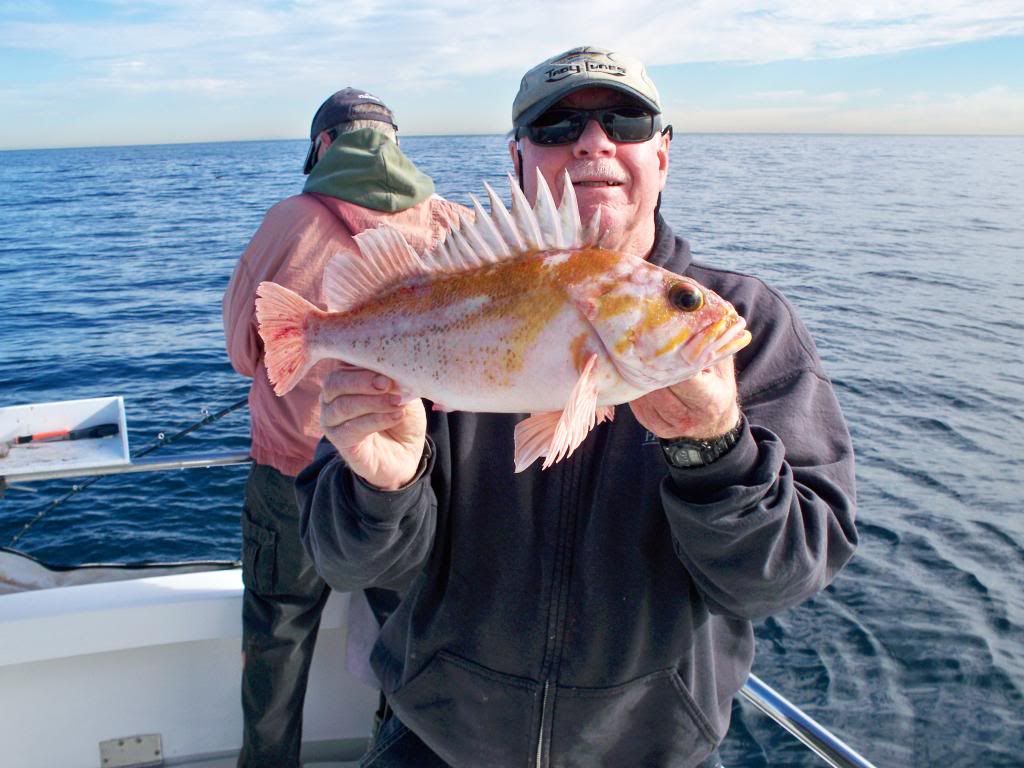 Down South-San Diego and good ole Mexico!
Yep, fishing off the ½ day boat
Dolphin
is going well, catching big Reds on Wed-12-11-13:
Captain Duane of
Seasons Sportfishing
says the big Lingcod, Vermillion Rockfish, and an occasional Cow Cod are on the chew. The bad weather kept them off the water over the weekend, however yesterday's fishing was sensational. Another huge Lingcod:
Quote:
Humor:
All comments and suggestions welcomed!
Weather
The weather forecast for Saturday and Sunday looks to be very fishable, so get out for some last of the year Rockfishing. Always check the latest forecast before leaving the dock.
Hook Up,
Cory