by Cory Visser
Thursday Recap Report-Weekend Possibilities:
A Summary of local fishing from Santa Monica to Oceanside, including Catalina and San Clemente Islands, with fishing trips out of San Diego down to Baja, Mexico.
OK
Rockcod
fishing is now off limits for two months, including Lingcod, Sheephead, Whitefish and Reds. So the months of January and February will be spent by most local boats catching Sculpin, Perch and Bass, with an occasional Halibut or exotic mixed in. I did not hear of any recent signs of Yellowtail at
Catalina
this week, while the White Seabass bite is generally a few months away, although a few have been caught.
Something to get excited about, albeit south of the border is that last Friday the
Yellowtail
showed up at the
Coronado Islands
and angler Eddie fishing the
Mission Belle
Sunday, 01-05-14 found a big guy on the Butterfly Jig:
Eddie with his second Yellowtail:
Angler Doug with some slug Tails:
Most of the fish weighed between 20 and 30 pounds, as the Mission Belle ended the day with 34 big Tails, with perhaps many more hooked. They also had 32 Yellowtail on Monday and 23 Tuesday. More pressure and not so pleasant weather led to a decline in counts on Thursday.
The
Malihini
also caught Yellowtail over the weekend and during the week.
Yellowtail off the Malihini:
At least you can go to Mexico to satisfy your craving for a fish taco.
The
Tribute
out of
Seaforth Landing
in
Mission Bay
had an excellent 1.5 day trip over the weekend, south of the border. They managed 115 Lingcod, big Reds and limits of Rockfish, some Sheephead and Whitefish. Some pictures:
The
Freelance
fished
Catalina
and they caught 81 Bonito on Saturday and 140 on Sunday, 01-05-14. The
Pursuit
also fished the island on Saturday and Sunday catching 140 and 110 Bonito respectively.
Very quiet in
Ensenada
this week.
Private boater Roy fished with friends and his son and they caught some very large Yellowtail at the 240 Bank out of
San Quintin
this week. They also caught an assortment of Lingcod, Reds and Rockfish in both deep and shallow water available.
Pretty ladies who fish or maybe not:
There were very few local reports this week, how boring? Sorry for this! The local boats are doing well on the Sculpin in the morning and finding a decent Bass bite later in the day, with many Bass being released do to the new size restrictions. At least they are having fun catching fish.
Private boater Terrence and friend with some nice Sand Bass and Calico Bass caught Wednesday, 1-08-14:
Private boaters with some excellent Calico Bass fishing on Sunday, 01-05-14:
A five pound
Halibut
off the
Native Sun
caught 01-03-14:
Private boater Norman with his first legal Halibut of 2014:
The Islands
Catalina/Santa Barbara Island!
The
Bonito
bite is going off, and both the ¾ day boat Freelance and the Pursuit are now concentrating on Bonito as well as Calico Bass, Sculpin, Perch, and Halibut. Occasionally they have caught a stray home guard Yellowtail.
Angler Doug with some first of the year Catalina Tails:
San Clemente Island!
There has been some excellent Calico Bass fishing at the Island, for those willing to make the long run. The private boaters with the skill to fish the boiler rocks and with weedless swim baits (plastics)have found the Calico Bass to be plentiful in the four to five pound range.
Down South-San Diego and good ole Mexico!
I fished with private boater Bill down in Las Salinas Sunday and Monday, just south of Rosarito Beach in Descanzo Bay. We caught and released a bunch of Lingcod, Reds, Whitefish, Bocaccio, and other Rockfish. Some pictures:
Bill caught a real nice Sand Bass in the four pound range: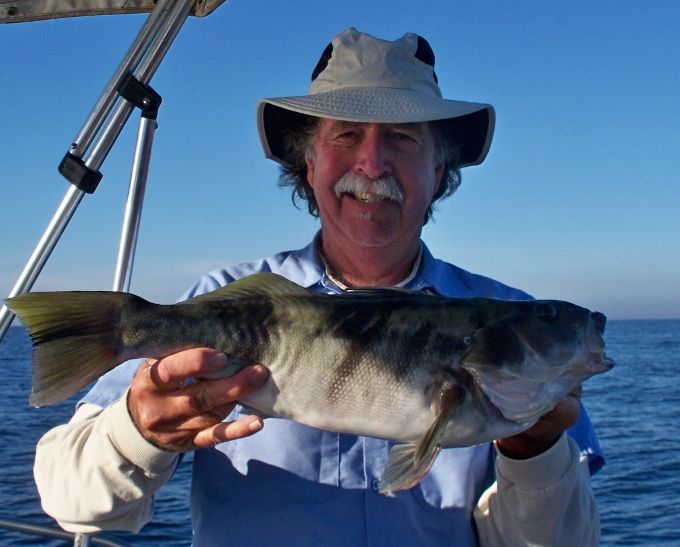 I found the Whitefish on the chew on the Mega Bait Lures tipped with squid: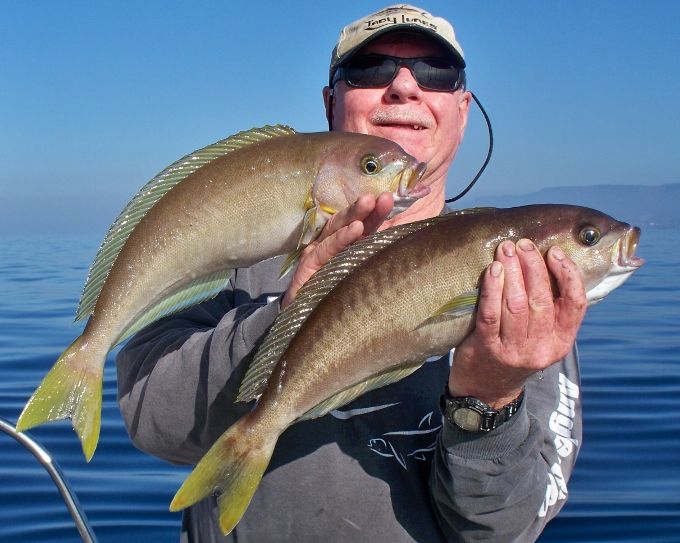 Another couple drifts in this area yielded a few more of the same. Bill moved north another mile or so and this drift resulted in some better bites on the Lingcod. Both of us were using either Mega Bait Lures and/or plastics. Bill caught our first keeper Ling at 25 inches. Unless it's over 28 inches Bill refused to be in a picture. I then caught a 26 inch Lingcod and I wanted to be in a picture: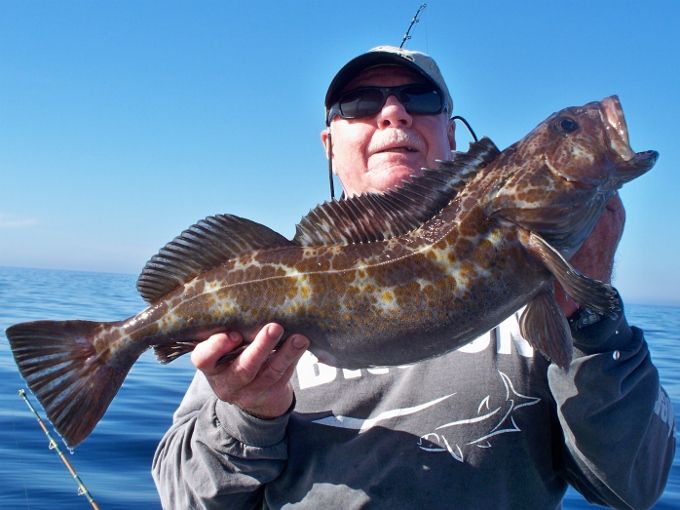 We both lost a few good size fish, as the Lings can sure move their heads in a mean, radical matter and thus shake off the hook. I then caught our biggest Ling of the day, just over 27 inches: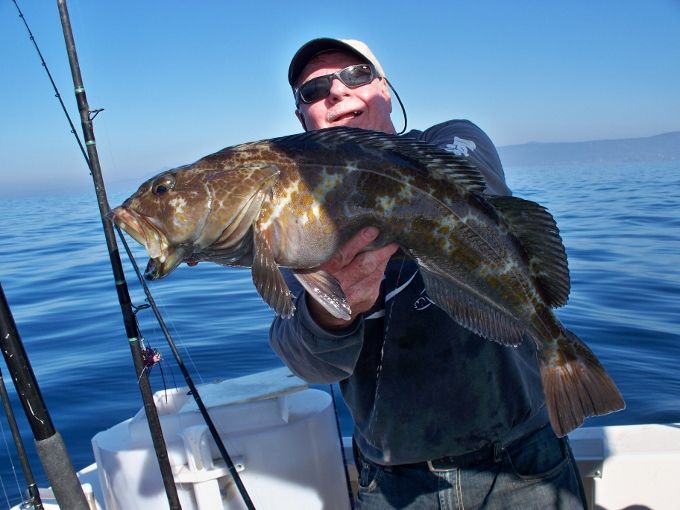 The shallow water fishing remained very consistent and the Lingcod were definitely on the chew, a few more pictures, as we caught some two dozen Lingcod, keeping only four, releasing some very plump females loaded with eggs: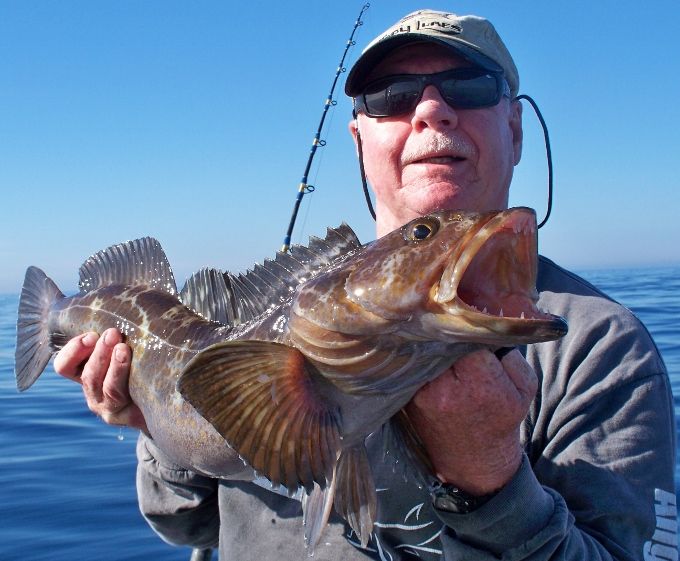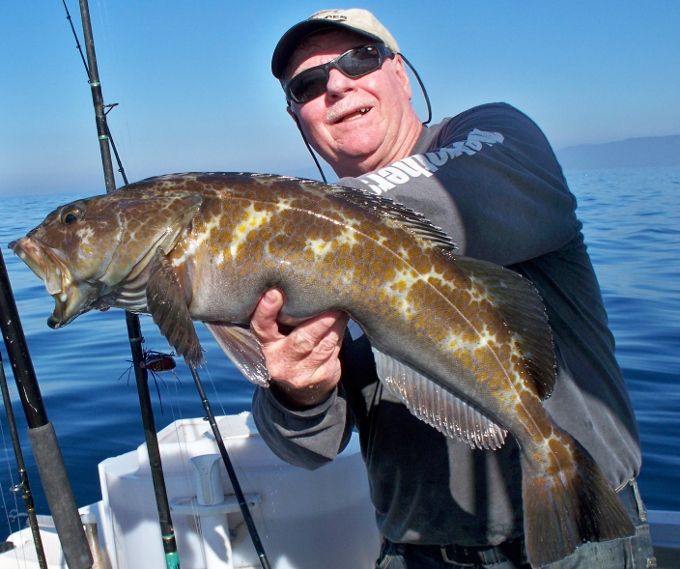 It became T-shirt weather, as the sun warmed up the air in no time, and the wind did back off, so we decided to check out a few deeper water points further south. The deep water did not yield very much, only a few nice Coppers and a couple of extinct Bocaccio. Surprisingly we only caught four Bocaccio all day? More Bizarre was the fact we caught zero Reds? Here is one of the nicer Coppers caught: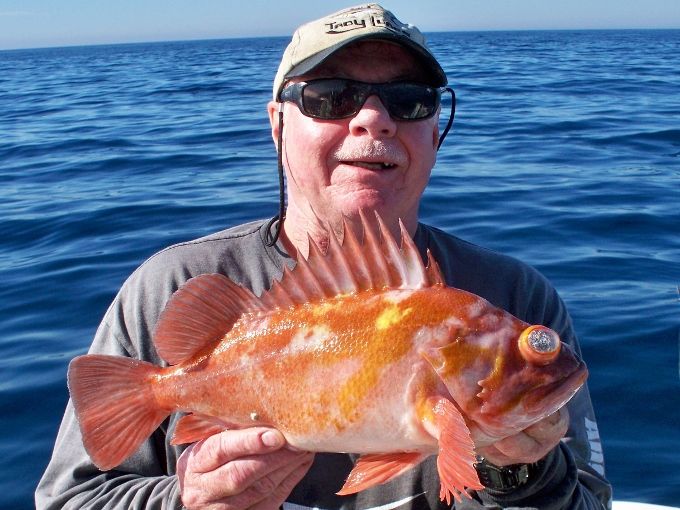 Finally a Red: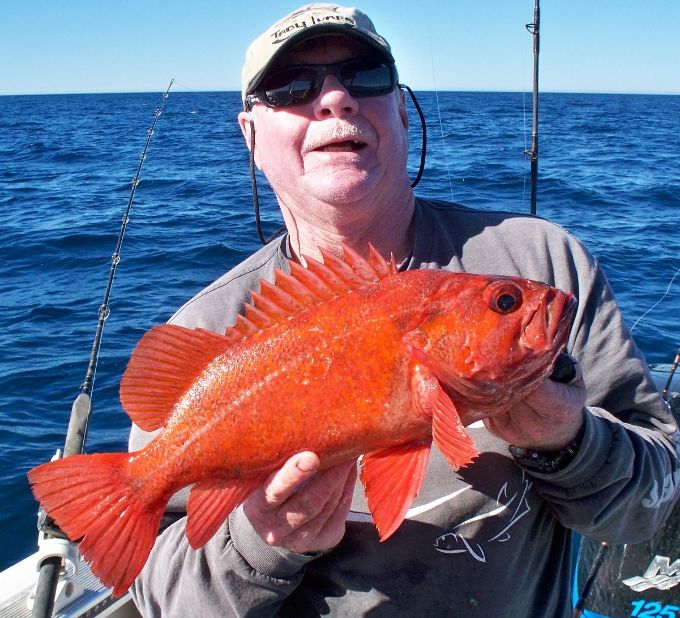 And this bigger model: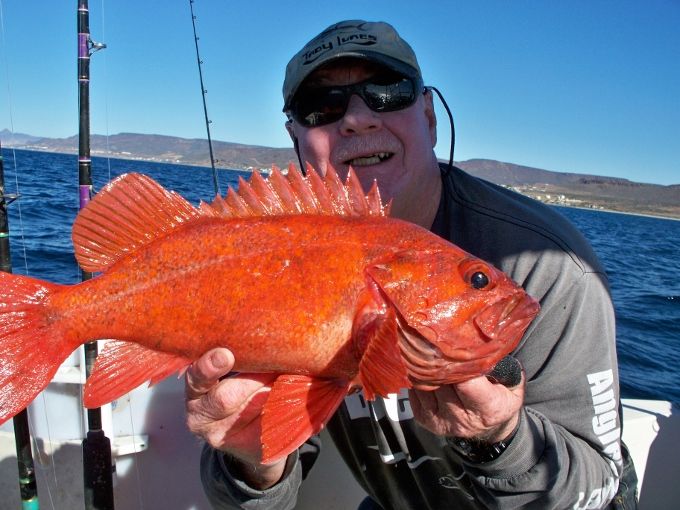 A Copper:
An okay Lingcod: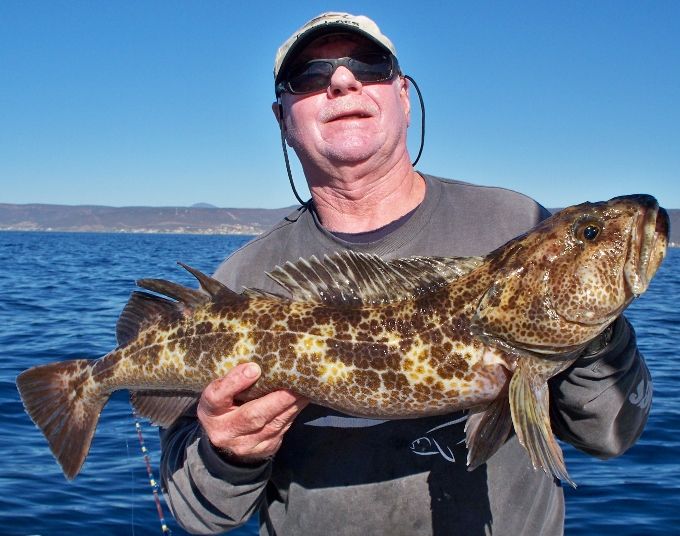 Captain Jamie and Captain Duane of
Seasons Sportfishing
had some more excellent fishing for Lingcod and Reds over the weekend fishing south of the border, and Duane fit in a couple of Yellowtail trips as well. Here is Duane with a monster 2014 Yellowtail caught on the Yo Yo Iron at the Coronado Islands: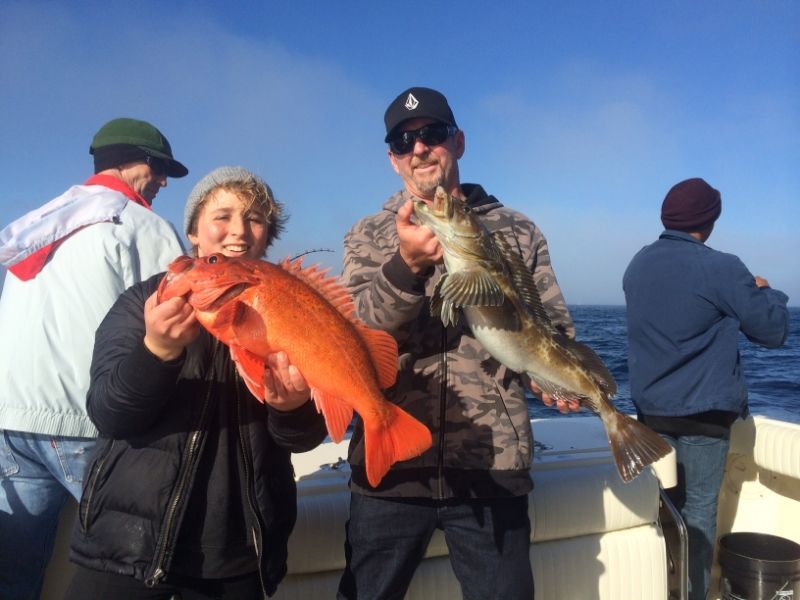 Angler John with a nice Spotted Bay Bass:
Quotes:
Humor:
Brrrrrrrrrrrrrrrr:
Roughing it the die hard way?
All comments and suggestions welcomed!
Weather
The weather forecast for Saturday is outstanding, while Sunday looks to be a bit breezy. Always check the latest forecast before leaving the dock.
Hook Up,
Cory