by Cory Visser
Thursday Recap Report-Weekend Possibilities:
A Summary of local fishing from Santa Monica to Oceanside, including Catalina and San Clemente Islands, with fishing trips out of San Diego down to Baja, Mexico.
The game plan for most local boats like the ¾ day
Spitfire
out of
Marina Del Rey
and the ¾ day
Victory
out of
Long Beach
is targeting Sculpin, Sand Dabs and Perch in the mornings, and then chasing Bass later in the day. The Spitfire has been successfully recording regular limits on the Sculpin, with mixed Bass counts in double figures most days. The Victory also had limits of Sculpin on their last few trips with very light loads. The ½ day boat
Southern Cal
recorded limits of Sculpin and 19 Sand Bass for only 8 anglers on their Tuesday trip. Very few Halibut or any exotics are being caught.
The
Bonito
are still on a good chew at
Catalina
, as the
Pursuit
managed to catch 300 Bonito and 210 Bonito on their Saturday and Sunday trips respectively. I did not hear of any recent signs of Yellowtail at Catalina this week, while the White Seabass bite is generally a few months away, although a few have been caught.
The
Yellowtail
bite at the
Coronado Islands
is still on, after a few slow days later last week, the counts again picked up with the Mission Belle reaching a high of 23 Yellowtail on their Wednesday, 01-15-14 trip. Most of the fish being caught are the bigger models, weighing from 20 and to as high as 36 pounds. Almost all of the Tails are being caught off the bottom on Yo Yo iron fishing.
Here is angler Mark with a 26 pound Yellowtail, caught off the Mission Belle:
Both the
San Diego
out of
Seaforth Landing
and the
Malahini
out of
H&M Landing
are back on line this weekend after being down for boat work.
A number of boats have been running 1.5 to 2.5 day trips down to Colonet in Mexico with excellent Lingcod fishing to go with big Reds, an occasional Cow Cod and other bottom critters.
Angler Harry fished the
Tribute
out of Seaforth Landing in Mission Bay and had an excellent 1.5 day trip over the weekend, south of the border off Colonet. They managed limits of Lingcod, big Reds and limits of Rockfish. Harry's friend with some big Lingcod:
Some big Lings off the
Eclipse
, which also ran a 1.5 day trip to Colonet, out of the same landing: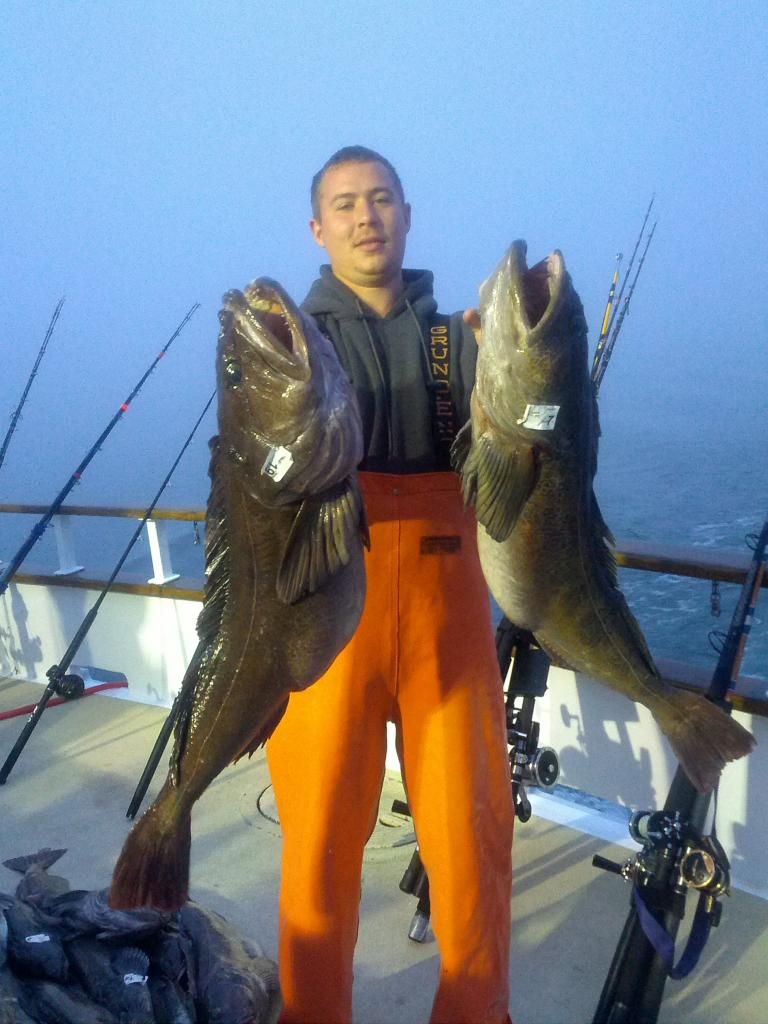 Private boater Dave fished with Captain Steve out of
Ensenada
on Saturday, 01-11-14. They caught easy limits of Reds and this nice Black Gill Rockfish from very deep water?
Pretty ladies who fish or maybe not:
I might look into bow fishing techinigues soon?
Private boater Lal fished on his boat the Rubber Ducky with friend Mark Saturday, 01-13-14. They managed to catch 16 Bass to 5 pounds with an assortment of Sculpin and Rockfish, all of the Bass and Rockfish were released to fight another day.
Private boater Andrew with a big Sand Bass caught Saturday, 1-11-14:
The Sand Bass were biting on the
Western Pride
on Sunday, 01-12-14:
Private boater Bobby with some excellent Spotted Bay Bass fishing on Sunday, 01-12-14 out of Long Beach:
Private boater Travis with a nice Sand Bass caught Tuesday, 01-14-14 and another nice one on Wednesday:
Rafael with a 5.5 pound Sand Bass caught off the
Monte Carlo
Monday, 01-13-14:
An eight+ pound Halibut out of Newport, caught 01-13-14:
According to
JD's Big Game
website, anyone willing to spend the time fishing the squid grounds might end up with a Coastal Tanker like private boater Nat with this 58 pound White Seabass caught last Friday evening:
Then there was this 66.2 pound White Seabass caught last Wednesday by private boater Dan:
According to JD these persistent anglers are putting in lots of time in order to achieve their targeted species.
The Islands
Catalina/Santa Barbara Island!
The Bonito bite is hot right now, and both the ¾ day boat Freelance and the Pursuit are doing well on catching Bonito, as well as Calico Bass, Sculpin, Perch, and Halibut.
San Clemente Island!
There has been some excellent Calico Bass fishing at the Island, for those willing to make the long run.
Private boater Cesar with one of the SWBA winning Calico Bass caught Saturday, 01-11-14:
Down South-San Diego and good ole Mexico!
Captain Jamie and Captain Duane of
Seasons Sportfishing
had to work for it, but finally found some willing biters, with Lingcod and Reds on the chew over the weekend fishing south of the border;
More Yellowtail caught off the Mission Belle:
Crew Shon holding up twin 30 pound Lingcod caught over the weekend down near Colonet on the
Fortune
with the Gold Coast Lady Anglers:
Private boater Barry with friends catching limits of Reds south of the border on Saturday, 01-11-14:
Captain Kelly of
K&M Sportfishing Charters
says the Yellowtail are still around, however, few are targeting them. His recent group found some excellent Reds and Lingcod fishing with out of San Quintin:
Quotes:
Humor:
Instant access, solves any urgency problems?
All comments and suggestions welcomed!
Weather
The weather forecast for Saturday and Sunday is outstanding, so go fishing. Always check the latest forecast before leaving the dock.
Hook Up,
Cory