by Cory Visser
Regular Tunaslam Corner tomorrow, and yes the fish are biting, despite the wind!
Part II Tahiti and Hawaii 12 day cruise!
For those of you you don't like to read much, skip Day 4 through 8 and start at Day 9, otherwise those that have never been on a cruise, read on!
Day 4 out to sea heading to Hawaii!
I preferred the elegant dining experience of the dining room, as opposed to the breakfast buffet. The service was always superb, although the selections were limited. It also kept me from eating too much and they had Lox and Bagel on the menu daily, not so in the buffet! The wife liked the freedom of choice in the buffet and instant serving.
In addition the Pizza Parlor doubled as an Omelet bar during the breakfast hour. They did make a fabulous Ham, Cheese, Mushroom and Jalapeno Omelet! The amount of different foods offered was extraordinary.
Unlike many buffets you go too, even for breakfast, they always added different items to choose from and the quality was exceptional, similar to a great Las Vegas buffet, with perhaps less seafood? The same could be said for lunch, great variety! We never did the dinner buffet, as the dining room experience was just too good to miss!
With five full days at sea ahead of us, we were now in total relax and unwind mode! Since we had virtually no schedules to worry about, we planned our first day at sea. At 9am there was a tour presentation of the big island of Hawaii, and our first port of call was Hilo.
Sharon was the narrator, a 28 year resident of Hawaii and she was sensational. Sharon did not promote any particular tour. Which we liked, she simply explained all the special places to visit, with some super visual slides. Her in depth knowledge of all Islands allowed for many a question to be answered. The size and age of each island was discussed, the recent volcano activity that had occurred, and any particular area to avoid as a tourist, mostly those areas that required four wheel vehicles and had poor roads or could be dangerous for hiking?
At 10am I signed up for the Hold em Poker tournament at 2pm and it was cancelled due to lack of interest? The wife visited the on board gift shop. Believe it or not the ship's gift shop had some great deals on souvenir items up to 75% off on clearance items, such as shirts and dresses, some costume jewelry and watches.
For example: high quality T-shirts at two for $20.00 or $13.99 each. The cheapest T-shirt I could find in Bora Bora was $31.00! We also both bought some Hawaiian items, a shirt for me, and a blouse and dress for my honey! Funny thing we never worn them, expecting a Hawaiian night that never came? They did have a late night Hawaiian pool party one night, which we chose not to attend. We are not night owls.
At 11am we spent our first time for an opportunity enjoying the ship's pool. So far the weather has been sensational, 78 degrees, little humidity, with scattered clouds, some early morning and late afternoon showers. It did rain hard several nights. Today the seas were calm, and just enough breeze to keep you comfortable while sun bathing.
If you ordered a bucket of beer you got five for the price of four! They had several international flavors, our favorite beer is Dos Equis Amber, unfortunately they had only light, and so we enjoyed their other selection, Becks Beer. Coors, Bud and Miller were all available at $5.00 each, same price as the two offered foreign beers.
We signed up for the wine tasting event at 3pm, so it was time to shower and dress for this enjoyable experience. It was pricey for wine tasting at $25 each, yet we were not disappointed when they displayed four wines and Champagne listed at $89.00. Both white wines, Pinot Grigio and Sauvignon Blanc were in the mid-$40 range, while the two reds, a Luce Malbec and a Caymus Cabernet were $110 and $150 respectively.
The Luce was beyond spectacular and so was the Cabernet! Later in the trip they offered another wine tasting for less expensive wines at $9.50 each, which we also attended. I believe all the wines were well chosen and priced fairly for elegant dining? The pours were generous compared to some tasting's we have attended, at least four to five sips as opposed to two?
During the wine tasting event which was hosted by the ship's head waiter Flavio, from Romania and head Mater Dei restaurant manager, Pepe from Italy. Flavio became a joy to interact with in the dining room, and assisted me in ordering several excellent wines I was unfamiliar with for our fine dining enjoyment.
We skipped cocktail hour today, given the wine event and watched
Saving Mr. Banks
in our room. During the trip they offered about five great movies from recent showings and a bunch more from prior years, although we generally only watched TV when dressing for dinner or taking a short break. Both of us preferred to read books the majority of the time, rather than watch TV.
Wine for tonight's dinner was a delightful red Bollo from Spain, as suggested by Flavio, absolutely superb! I had to pay a little bit extra as it was over $50. Featured Appetizer was a duck pate, outstanding with Cream of Asparagus soup. The wife ordered Fettuccine Alfredo, and I ordered Blackened Cod and Scallops. Desert was a Pecan Tart.
There were always five choices for desert not including any flavor of ice cream and sauces, which were always available.
Tonight's entertainment was a Violinist who played with an Irish flair, very upbeat and nicely done!
Day 5, 2nd day out to sea heading to Hawaii!
I was up at 6am, while the wife slept in until 8am. I finished my third book today. We chose the buffet for breakfast. I combined Eggs Florentine with Canadian bacon and Corned Beef Hash. Sheryl loved the large spread of various croissants to choose from, adding one slice of bacon and a small scoop of scrambled eggs.
Today's tour summary was on Kona. Some five years ago we spent a week on the big Island and visited most of the major areas to see. Unfortunately the prime event of watching the volcano flow into the ocean in a fiery explosion of steam was recently diverted by an earth quake and no longer allowed any viewing from shore, only the ocean. Having spent lots of time in the area, we did not plan to do much except ride the trolley, which costs only $2 each and travels as far as 10 miles down the coast to all the beaches and major hotels.
After the tour we met Eric and Jenny, who were avid travelers, and were fortunate enough to having retired in their 50's after selling their Taiwan export/import business. With their children mostly raised, they spent as much time traveling abroad as possible. They discussed their frugal traveling methods with us and we found them quite fascinating. Learning how to stretch a dollar allowed them to do things and go places that much more. Eric and Jenny live in Vancouver where they emigrated from Taiwan in the mid 90's. Our cruise ship continues on to Vancouver for its 2nd leg, an additional 10 days which includes another visit to the four islands we would visit on this leg.
They are already scheduled for a 30 day river cruise in June in Europe, I'm jealous? We left them with promises to meet again and share some activities in Hawaii as well as join them in the Italian dining room; Sabatini's which requires a $25 cover charge each. The other specialty restaurant was a steak house which they had already attended and stated it was quite special.
At 10:30 am I signed up for the Hold em Poker tournament at 2pm and this time the game was on. We returned to our room and read books on our balcony, as it was 80 degrees and balmy out.
We had an excellent lunch in the dining room and I continued on to the poker tournament. There were seven signed up, which is the max for the only table available? Did I mention the ship is small and so is the Casino. We began the game with six players, as number 7 was a no show! It was a $60 buy in and the house would keep $60 leaving $300 for the pot.
On my first hand I almost lost all my chips, as I had two pair and four clubs on the flop! Did not improve my hand and managed to stay in the game with only a third of my beginning chips left. Not a good start! However, I recovered quickly and won the next two hands with three of a kind and a straight. The person who won the first hand and 2/3's of my chips continued to win and knock out other players. I had one more head on head with him and this time I won.
After about an hour the blinds were raised to a level that any conservative player not playing their cards fell by the wayside. It was down to the two of us when number three and four both fell in the same hand.
He had a bit more chips than I and if he prevailed would have ended up winning $210 and I would win $90 as second place. I asked him if he wished to split the pot, $150 each. He hesitated and said I really want to play it out. I told him no worries, however $150 was guaranteed if we split instead of $90 if he lost. He decided $150 was good enough, so we split it.
Joined the wife in the room, took a shower and got ready for cocktails at 5pm. Today it was 24 carat Gold Margarita's made with Tequila, Amaretto and Grand Marnier, wow that was good and became our drink of choice, the rest of the cruise.
For dinner the wine of choice was a fabulous California Zinfandel. Appetizers were Escargot or a tasty ceviche made with Calamari, Shrimp and Crab, then I ordered Cream of Sweet Potato Soup. The main entree was Surf and Turf, Filet and Prawns. Fort desert I had Cheesecake. There were always many other items to order off the menu each night!
Tonight's show was a magic show, quite well done.
Day 6, 3rd day out to sea, heading to Hawaii!
I slept in until 7am today and we both woke up to rough seas. As the day progressed the seas built from 25 knot winds and 6 to 8 foot waves in the morning, to 40 knot winds and 10 to 12 foot seas by late afternoon. Earlier this morning we had crossed the Equator. We had now graduated from being Poly Wogs to Shell Clams, this being our first time crossing the equator by sea!
After a nice sit down breakfast we attended the tour discussion at 9am about Maui. This would be our third visit to this Island and I wanted to rent a car and go to all the places we had not yet visited. I was going to discuss this with Eric and Jenny; however, they did not attend the discussion. It turns out Jenny was seasick? Sharon again made the presentation quite fascinating. My plan included a visit to a pineapple winery for wine tasting and views up high of the other side of the Island, then on to the Iao Needle and then on to the many beaches we had not yet visited.
The poker tournament was again cancelled due to lack of interest. At 11am there was a ceremony welcoming all the Poly Wogs to the group of Clam Shells. The crew dressed up as Islanders and put some volunteers on trial as a hoax and then punished them with floggings, etc.
An example of one person on trial was for being accused as a
glutton
. The evidence accumulated was for a given day's consumption of meals! The accused was determined to have ordered a continental breakfast in their room, then attending the sit down breakfast, then on to the buffet breakfast.
Later in the morning it was a visit to the Pizza Parlor, a sit down lunch, and on to the buffet lunch. Hamburgers and fries in the late afternoon on the pool deck. Then the attendance to both the sit down dinner early seating, while changing clothes and adding a disguise and false room# to also attend the late seating! And finally an attendance to the midnight buffet! Yikes, guilty as charged and flogged 25 times!
The pool was closed today as the rocking of the boat was splashing water everywhere. So we decided to attend Bingo today. Grand prize for blackout was up to $1050! No winning for us, not even close to one number in the four games played. No one won blackout at 52 numbers, so it rolled over to the next day.
For lunch I ordered spaghetti and meatballs and a slice of meatloaf. Read and watched movies (The Hunger Games) in the room before having more 24K Margaritas at 5pm.
The dining room tonight was half empty as a good many were seasick!
For dinner I had Roast Pork and BBQ Chicken. We both enjoyed Cream Brule for desert. The singing and dancing show planned for the evening was cancelled due to the rough seas, too dangerous! We instead got a repeat performance of the Violinist accompanied by a great Piano Player.
Day 7, 4th day out to sea, heading to Hawaii!
Again I slept in until 7am and woke up to rain, wind and big swells! By this time the sit down Breakfast was all too much the same, so we elected the buffet which continues to provide variety and today had my favorite Lox and Bagel and Eggs Benedict, while Sheryl had a fantastic Belgium French Toast.
We attended the tour discussion at 9am about Kauai. We were really looking forward to this presentation as we have only been there once before some 40 years ago! Eric joined us this time, however Jenny was still seasick, unfortunately. We loved the presentation and the decision was again made to rent a car for the day. Eric agreed to join us on both Maui and Kauai, thereby sharing the cost of the rental car which turned out to average $110 each day, or only $30per day per person compared to most tours costing well over $100 each per day.
Although the pool was still closed and sunbathing in the wind left a lot to be desired we enjoyed another bucket of Beck's beer. Sit down lunch was Fish and Chips with 4 flavor soup including Duck and mushrooms.
Today's wine tasting at 3pm was quite nice, with narrator Flavio and Pepe doing a grand job of explaining which wines grew in what climates best and some details on wine making in their respective countries of Italy and Spain. The wines were refreshing and on the lighter side, but still tasty!
We passed on cocktail hour, given we had beers and wine tasting earlier. We attended a 7pm Magic show before dinner tonight, as there was no late show. Tonight's featured meal was Roast Duckling, an appetizer of Scallops ceviche with avocado, then Oyster soup, a Caesar's salad and for desert a Grand Marnier Souffle!
Day 8, 5th and last day out to sea, heading to Hawaii!
A very rough evening, as the boat rocked and rolled all night, with some darn good slams into the big seas. Still my honey did not get sick, I am so proud of her. Woke up to pouring down rain at 5am and could not go back to sleep, so upstairs for coffee and more reading, now on book number four! Good thing there was always time for naps? The wife joined me at 8am for the breakfast buffet.
We attended the tour discussion at 9am about Oahu, despite the fact we would be able to tour the island, given we had to be at the airport by 10:30 am. The boat was scheduled to leave at 11pm, so there was plenty of time for those staying on the boat and many others stayed an extra night or two on the Island. Once again we had pretty much seen everything on Oahu, having been there six previous times, although we would both want to return as soon as possible, you never get tired of Hawaii?
Nevertheless the presentation was very interesting about the development of the island and its many places to see.
Let me tell, you have missed out, If you have not been to the
Polynesian Cultural Cente
r and attended the
Luau
with a cast of over 100 college students grand performance featuring all the Polynesian cultures in the Pacific Ocean, such as Tonga, Samoa, Fiji, Tahiti and of course Hawaii. They all have unique dance styles and costumes. An unforgettable evening!
As the day progressed the seas and wind subsided somewhat, but were still around 20 knots, with 6 to 7 feet swells most of the day. The bingo blackout was up to $1350 and since it was the last day, a winner was guaranteed! So we played some extra sheets, but no luck for us! Sheryl was one number away, oh so close?
The sit down lunch featured Red Snapper Filets, BBQ Chicken, or Meatloaf, a deep fried Calamari Appetizer, white Cabbage, scalloped potatoes, and fresh broccoli.
Did some more reading and took advantage of nap time. Tonight we were invited to the Captain's Cocktail party at 5pm. The wife was offered some champagne to start, and then chose a Cosmopolitan, as I enjoyed a Vodka Giblet and then a glass of Red wine.
The weather was good enough to allow the show to go on before dinner at 7pm. This was a fun show featuring oldies but goodies! They sang and danced to Beatles songs, Elvis, The Four Tops, Monkeys and more. I can't believe how many costumes they changed into and all were colorful! It was a very fun show!
Dinner tonight included Pheasant or Beef Wellington, I had both. The appetizers and soups were always special and tasty. The special desert tonight was a Chocolate Soufflé. All their Soufflés were sensational!
Day 9, Hilo, Hawaii!
Woke up to pouring down rain, yikes! I slept in until 6:30 am. The boat anchored up at 8am and the Tenders transferred the booked tour passengers to the island first. We were scheduled to depart at 9am; however we waited until the rain stopped at 10am. Being one of the last to depart, we encountered a local tour guide anxious for customers. They were called the Hawaii Adventure Tour. So far they had no takers or we were either their second or last tour opportunity.
We explained that our prime interest was the Botanical Gardens. They stated that was not part of their package, however if no other group appeared in the next 10 minutes we could not only visit the Botanical Gardens but most of their other tour destinations and attractions! That was cool, so we agreed to go!
No one else joined us and our first stop was the Japanese Gardens nearby! Wow this was very nicely landscaped, quite beautiful! Check out these pictures: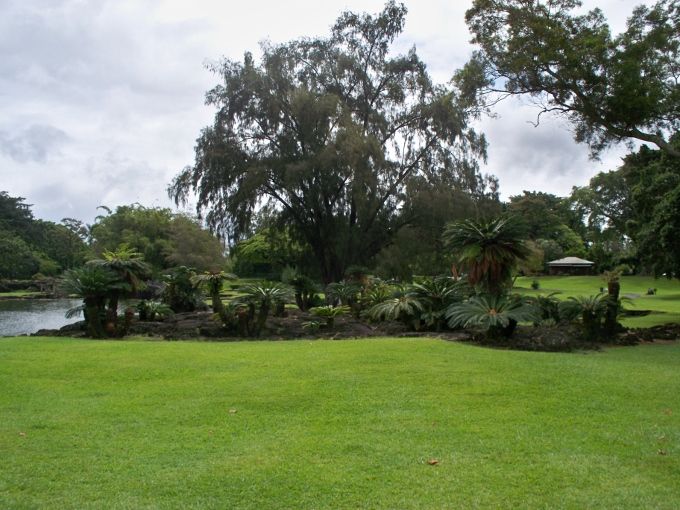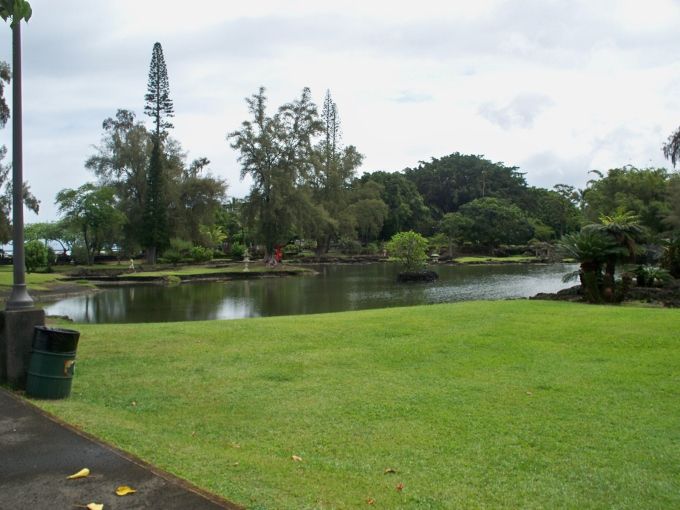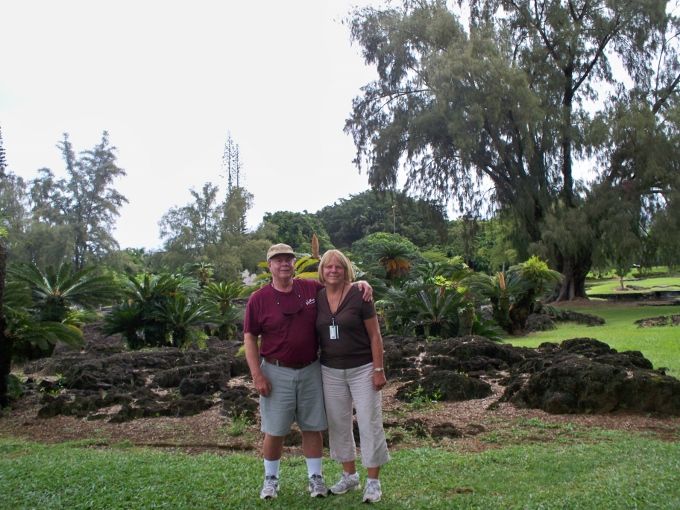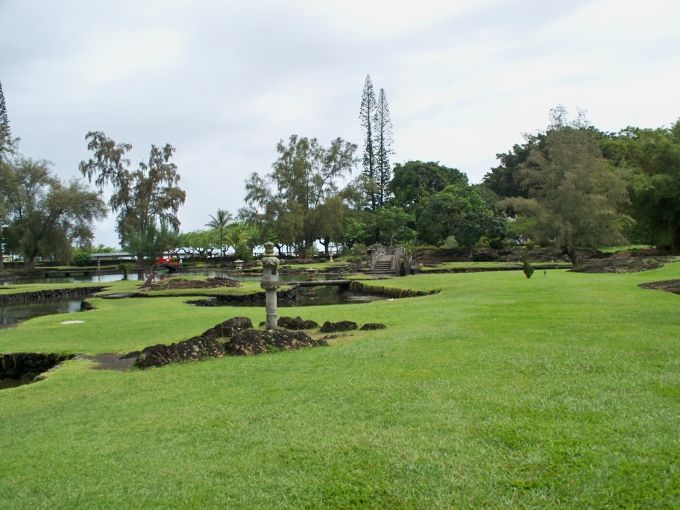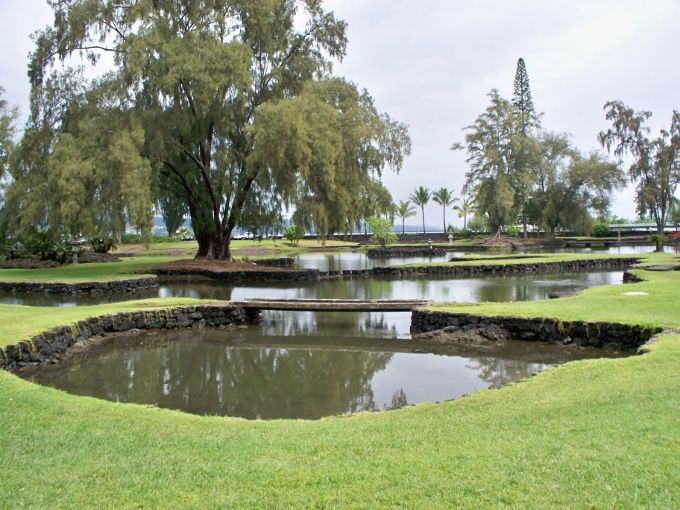 The drive out to the Botanical Gardens was loaded with great tropical views and coastline shots:
This is twin Rocks: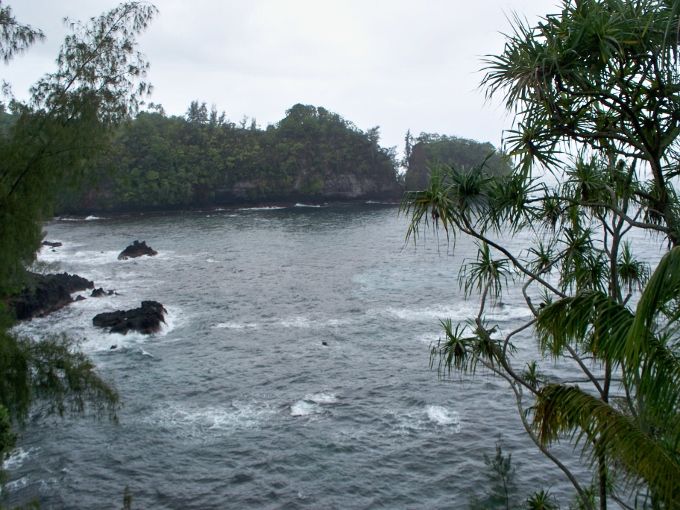 We arrived at the Botanical Gardens and Grace our tour guide said she would return for us in an hour. As we purchased tickets for the visit, we also bought some Mosquito repellant cloth, which was highly recommended. A good choice as the area was loaded with the little rascals! We also grabbed a couple Umbrellas, courtesy of the tour, how cool? Walking into the gardens the rain began. Talk about spoiling our pictures?
We began the descent into the gardens; yikes I have a torn Meniscus and Quad Muscle. This downward approach meant a serious uphill climb on our return, not to my liking, yet I was a good sport? The total walk around was 1.25 miles, a gigantic effort on my part, yet I made it!
The garden was spectacular, and would be even more beautiful with sunlight! Still I got some very sweet looking views: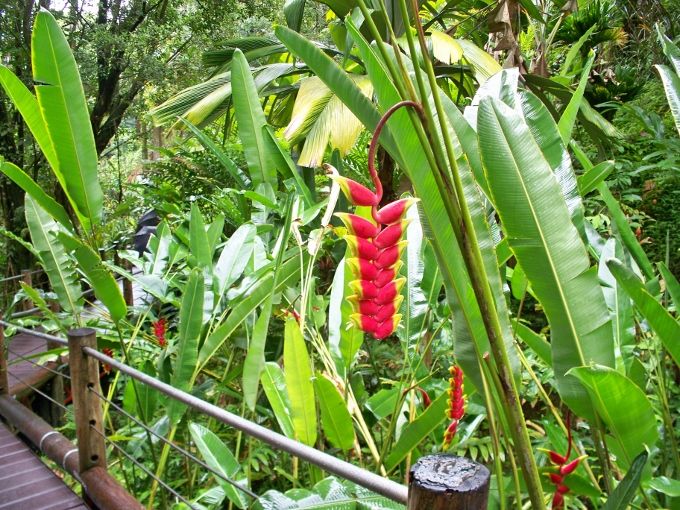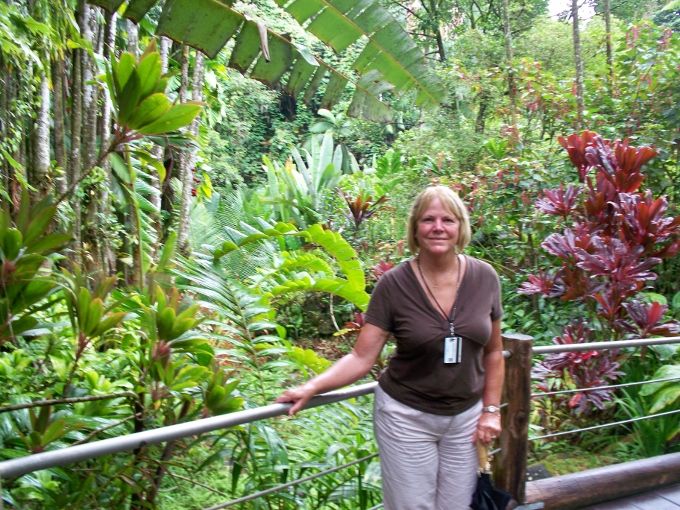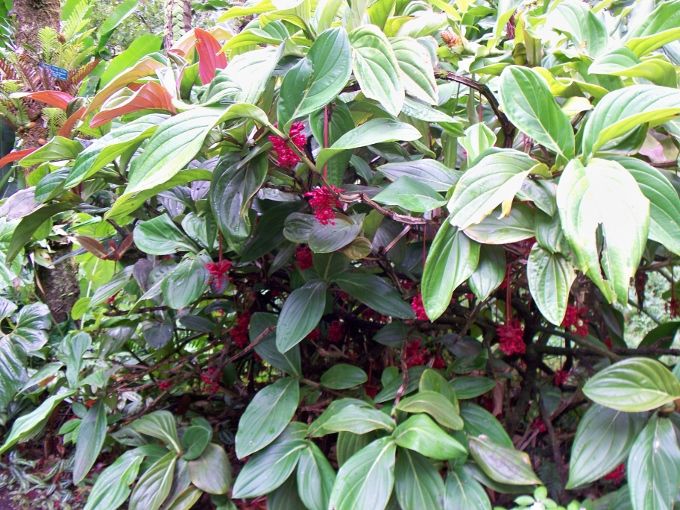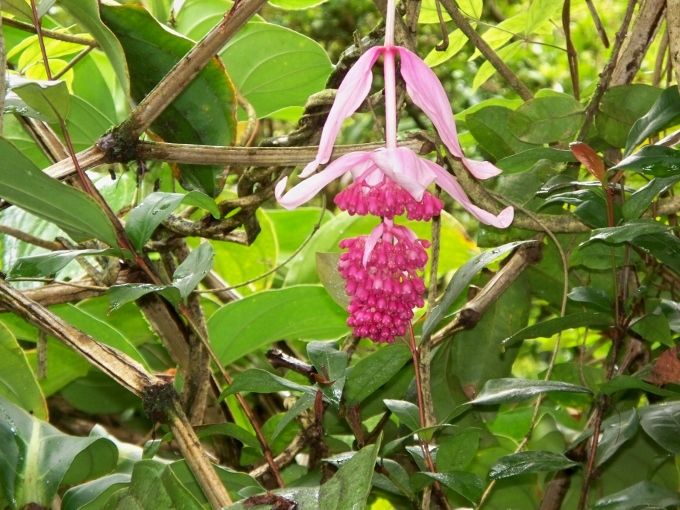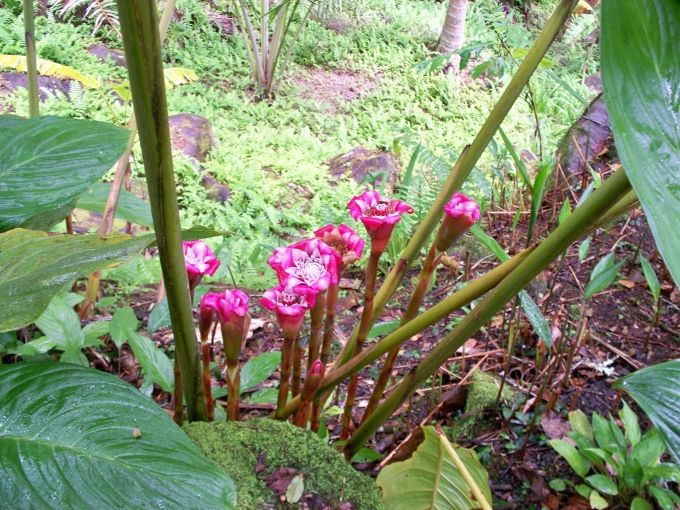 A waterfall inside the gardens: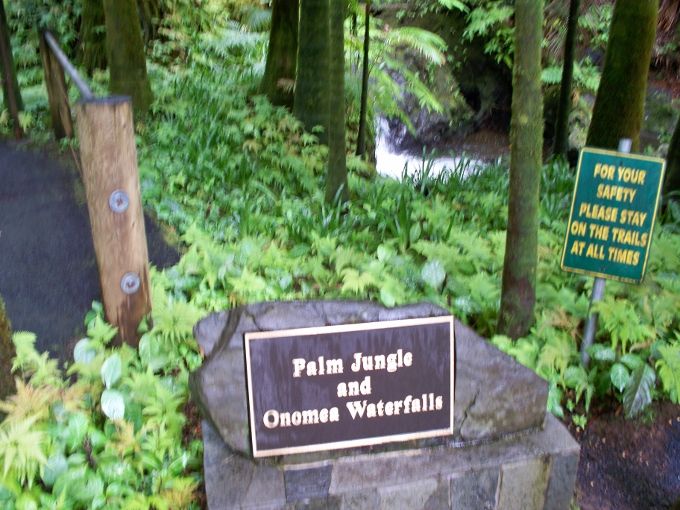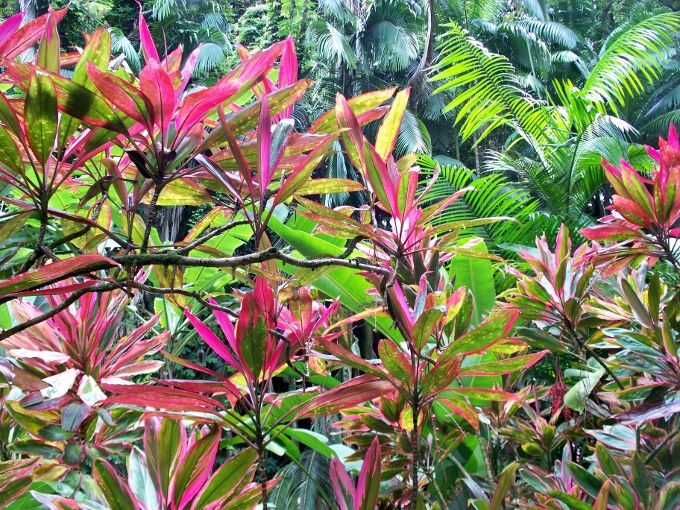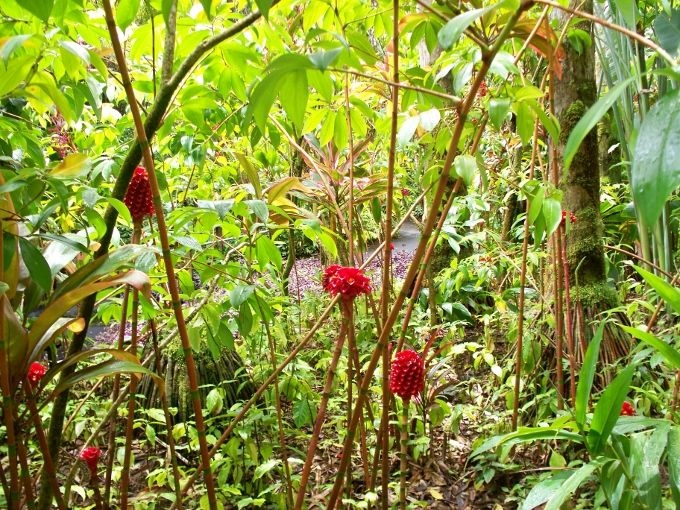 The Guardian of the garden?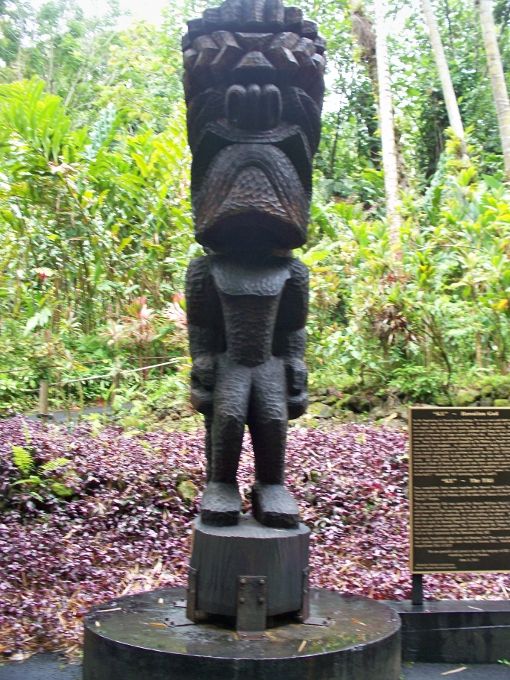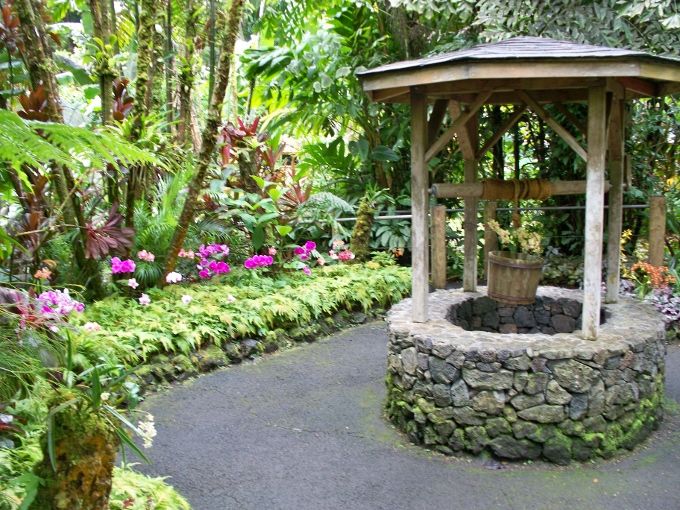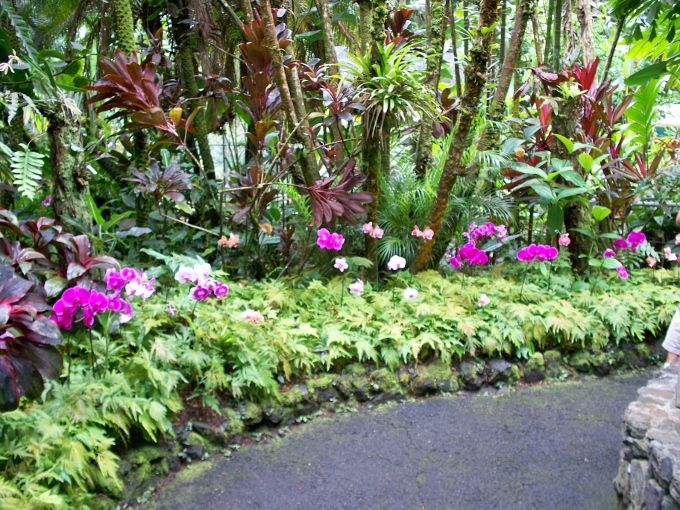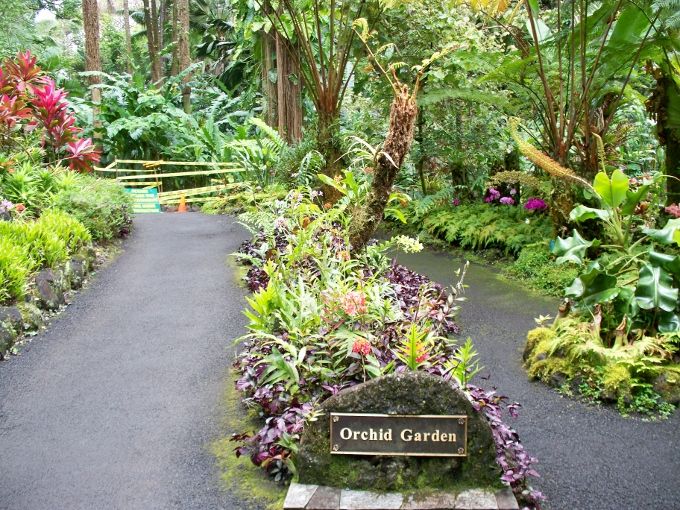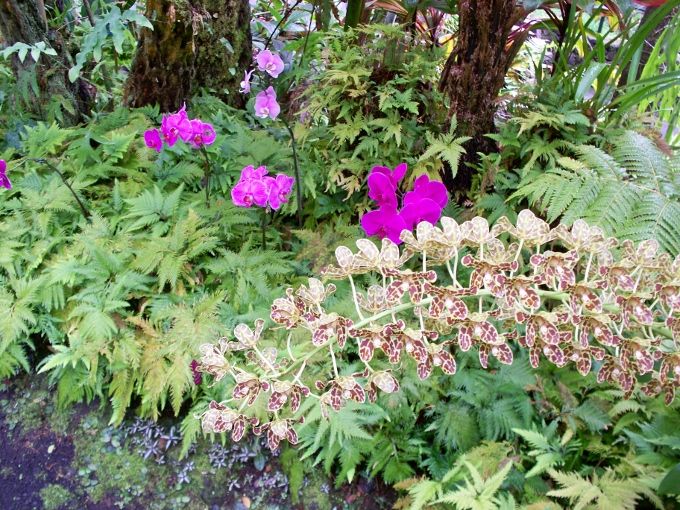 At the bottom we reach the ocean, what a beautiful place: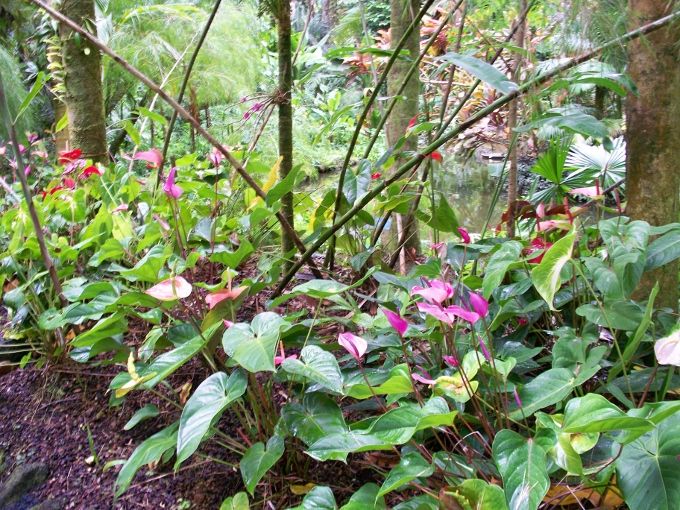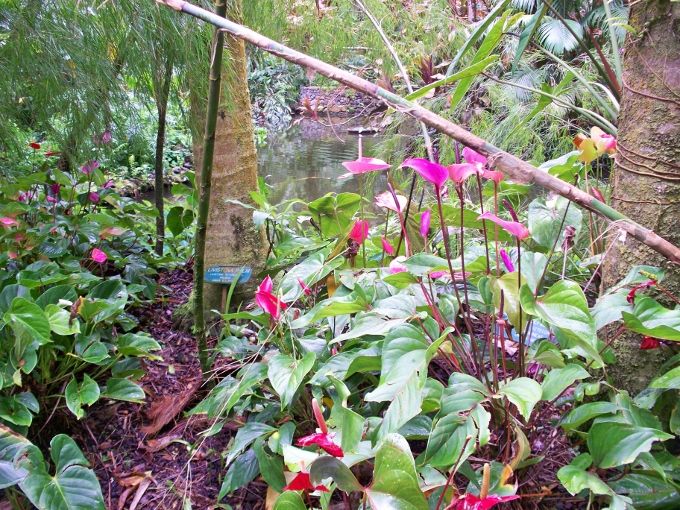 Grace was waiting when we returned from the Gardens. She took us to a number of local sites and tourist attractions, then on to a local beach which was one of the few with White Sands on this side of the island: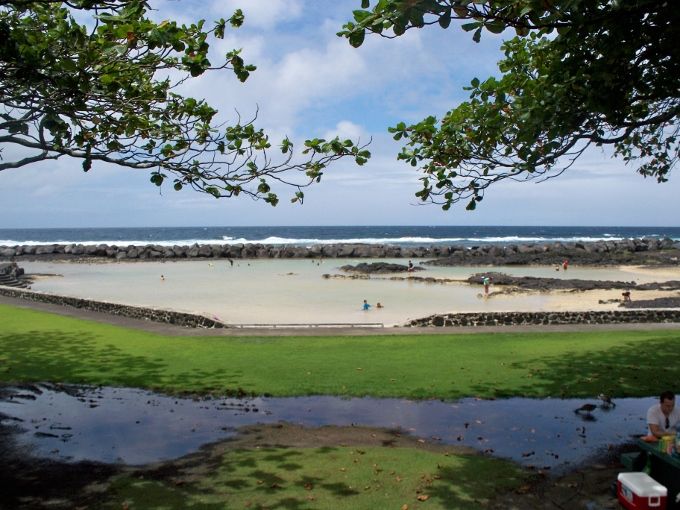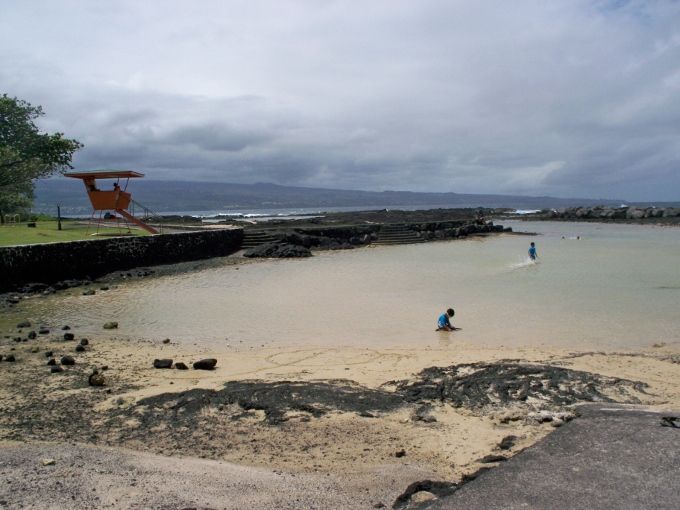 We stopped at Long Drugs to buy our allotted one wine bottle per person on the boat. A nice California Chardonnay and Cabernet was purchased. We were now covered for Cocktail hour. Grace was a special guide giving us all we could ask for in a 3.5 hour tour at a price that a simple cab ride to the botanical gardens would of cost us, so cool!
A picture from our room of Hilo Harbor, oh where did the sunshine go?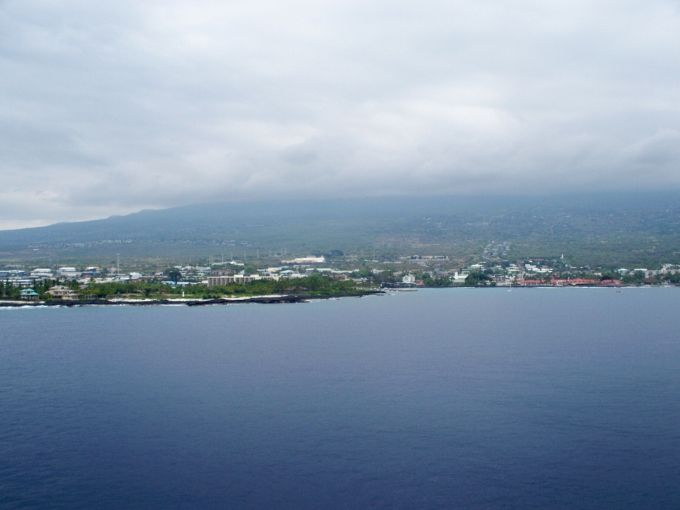 We returned in time to hit the buffet for lunch at 2pm. Then we simply chilled out for the rest of the afternoon. As I continued to read, the wife watched some more first run movies in the room.
The theme for dinner was Italian. First time I actually recognized a theme, although they were always wearing different uniforms on any given night? We enjoyed Seafood appetizers, Minestrone Soup, all the great kinds of pasta, Lasagna, Spaghetti, Fettuccine Alfredo, etc. Desert was an Italian six layered cake with Ice Cream.
Day 10, Kona, Hawaii.
The ship was able to dock in the harbor at 8am, thereby allowing all passengers to leave at their leisure. No tenders today! We slept in and made our way off the boat at around 9am. We caught the free shuttle to Hilo Hattie's about a mile away from the pier. We were given each a key to open a surprise box. Sheryl's key worked and she had the choice of a silver necklace and pendant or several other nice gift's.
She chose the necklace. We browsed around and bought several other souvenirs and during our hour in the store, numerous people tried their keys and no one else won, as a big bell goes off when someone wins!
From the store we jumped on a Trolley that does a round trip down the coast to all the beaches and major hotels and to all the major department stores. However, since today was Easter almost all stores were closed, except Walmart, and we spent some time there on our return. The trip along the coast was pleasant and there was some good sightseeing except picture taking in the rain does not do well, so no pictures on this journey. For $2.00 each we got quite the grand tour, with some great beaches and surf spots along the way, including Magic Sands Beach which during storms loses all its sand until the next storm when it magically reappears!
We re-boarded the ship at around 2pm just in time for the last call on the luncheon buffet. We then retired to our room for reading and relaxing and some short naps! At 5pm we enjoyed some wine in the room for cocktail hour.
Nice Easter decorations, would love to bite into one of those Chocolate Eggs: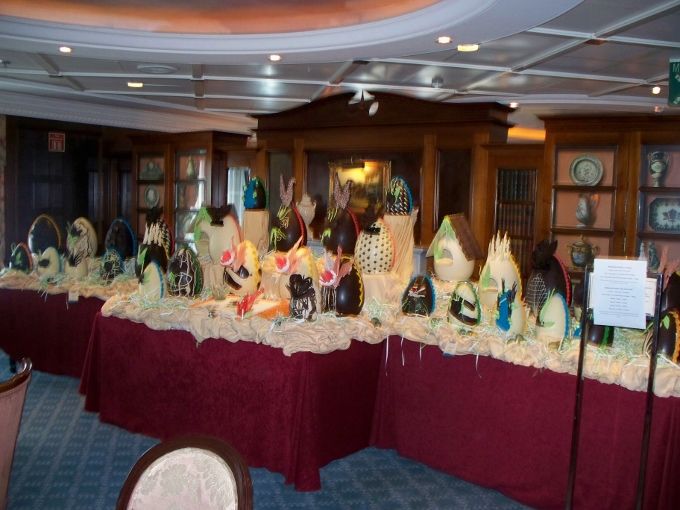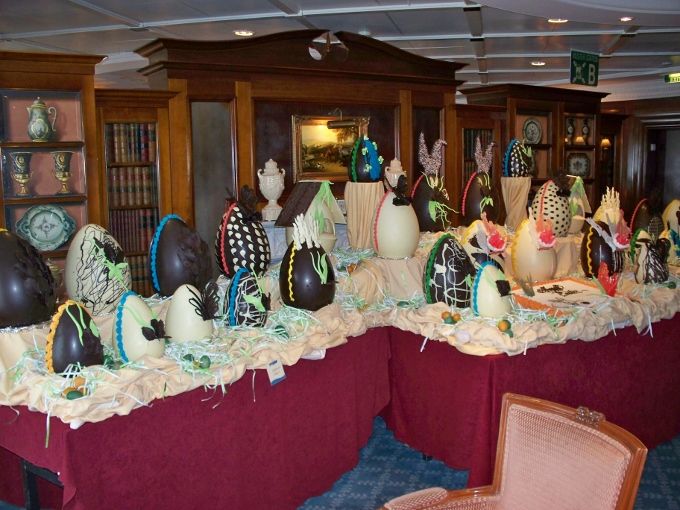 Dinner at 8 was again Prime Rib night and had to have that once more. Skipped the Magic show tonight.
Day 11, Maui, Hawaii
The ship anchored up in the harbor at 7:30 am, and the tenders began to run shortly after the port authorities cleared everyone for departure. Our rental car shuttle would meet us at the dock at 8:30 am. We met Eric and Jenny in the Casino at 8am where we would get our tender tickets to run to the dock. All booked tours received preference for tenders.
Near the dock, this is one of the largest known Banyan trees in the world: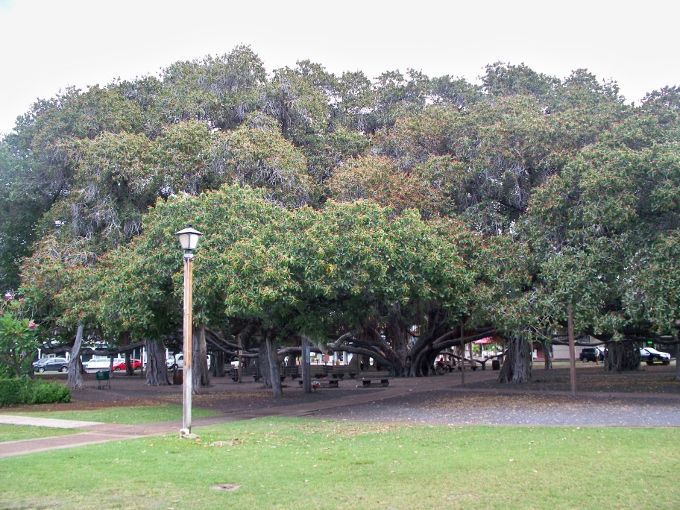 The pier area with lots of charter boat operations:
I asked what was biting and they told me Blue Marlin in the 150 to 300 pound range, 15 to 25 pound Yellowfin Tuna, and similar sized Mahi Mahi!
The shuttle showed up at 8:15 am and took us to the car rental agency. We chose a Chevy Cruze and proceeded to head to the Pineapple Wine Plantation.
The entrance to the tasting room: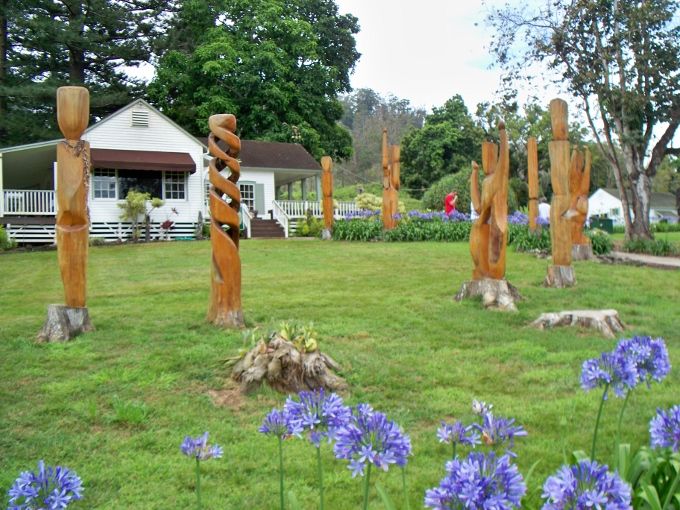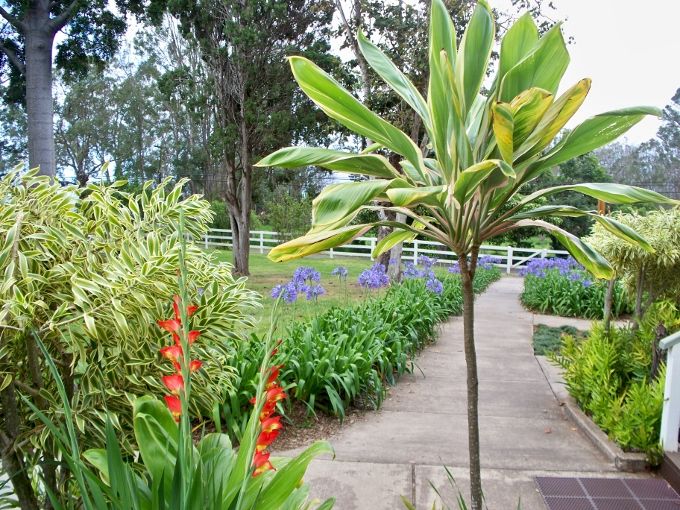 Our partners for the day Eric and Jenny:
The wine tasting was very nice and we each purchased a bottle of Pineapple Blanc de Blanc wine, similar to a sweet Chardonnay with a definite pineapple flavor.
It was on to the IAO Needle some 22 miles away. Stopped in town at McDonald's to have lunch, a nice change of pace, although we had to pay?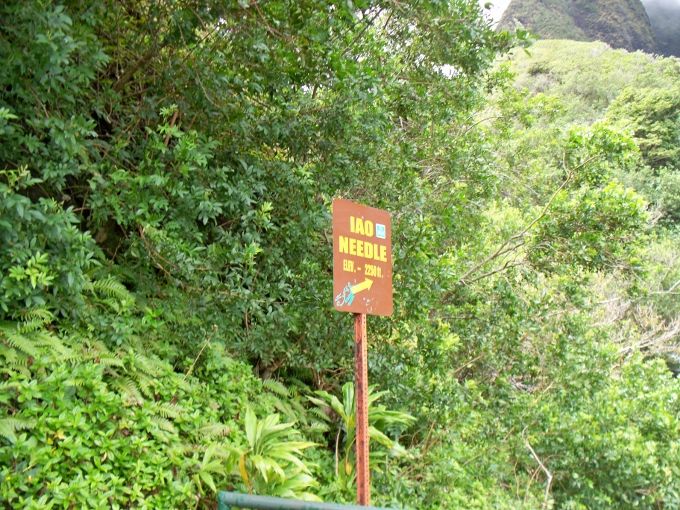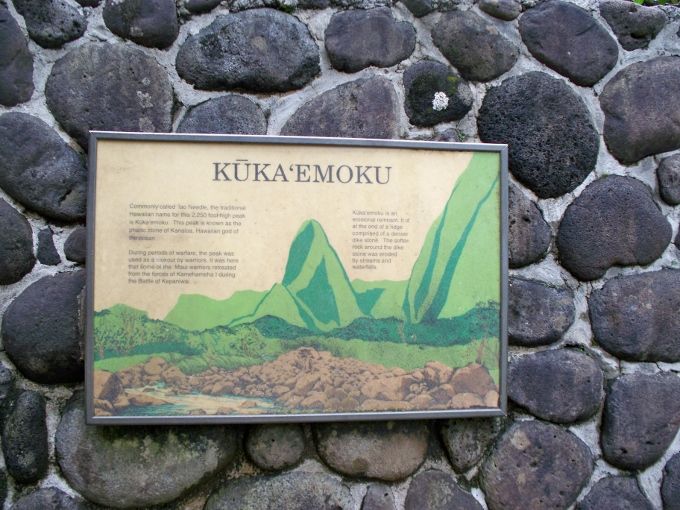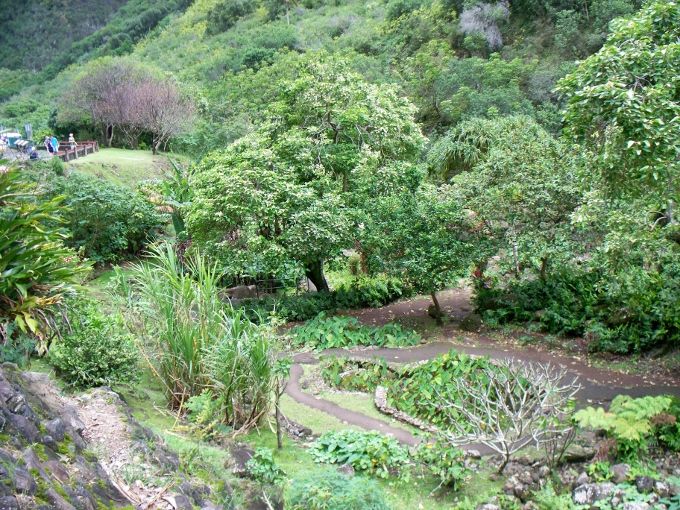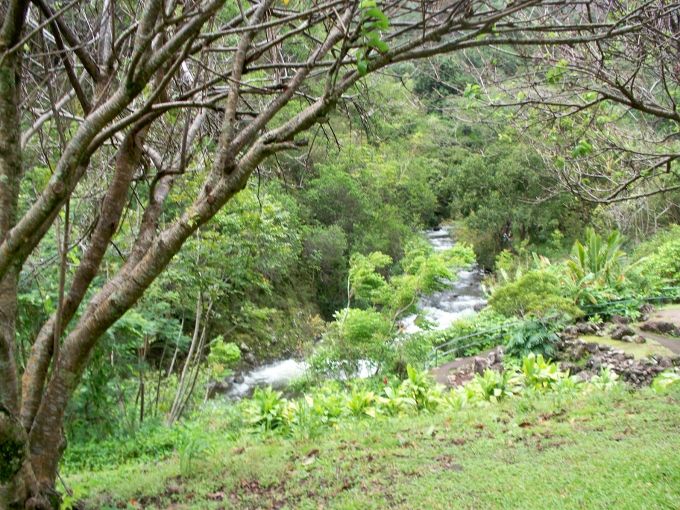 We spent another hour or more after we left the park to observe the other side of the island before returning the rental car at 4pm. It was a long, yet enjoyable day, and we all had a great time.
Another great dinner and off to bed!
Day 12, Kauai, Hawaii.
We docked at Kauai at 7:30 am and exited the ship at 8:10 am to meet our shuttle to the rental car agency. Since there were six shuttles waiting for passengers from every car rental agency, we were not alone choosing a rental car for the day. We were told the round trip to the canyon was probably going to take 4+ hours given the time to sight see at various points of interest.
It was about an hour drive to the entrance to Waimea Canyon, however the road was nice, yet there was little scenery along the way. We started to climb for about 5 miles before coming across our first view point of the Canyon.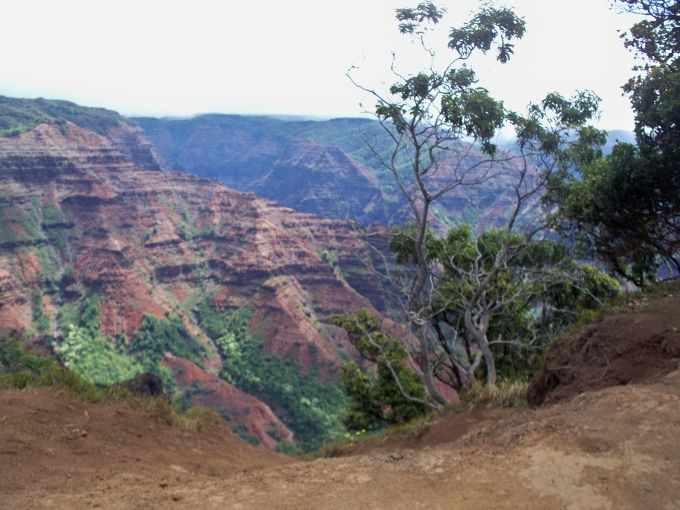 Moving on we next came to this beautiful spot:
And closer: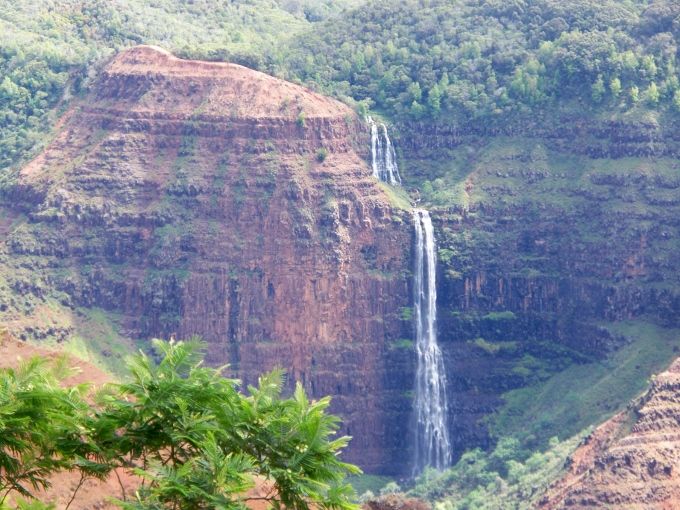 And on to the next viewpoint: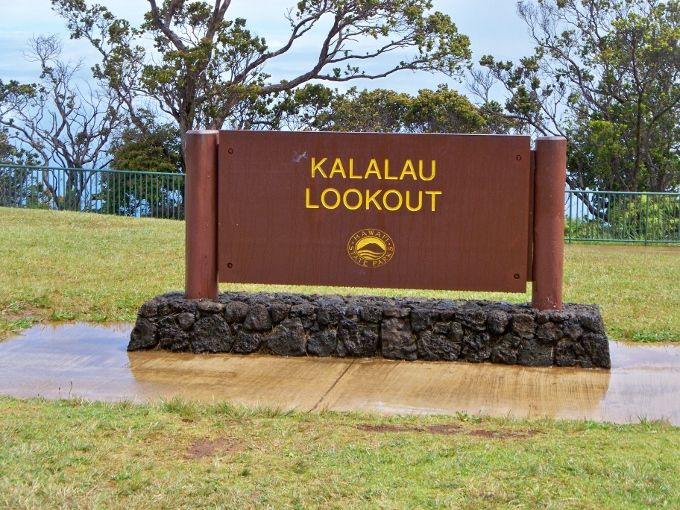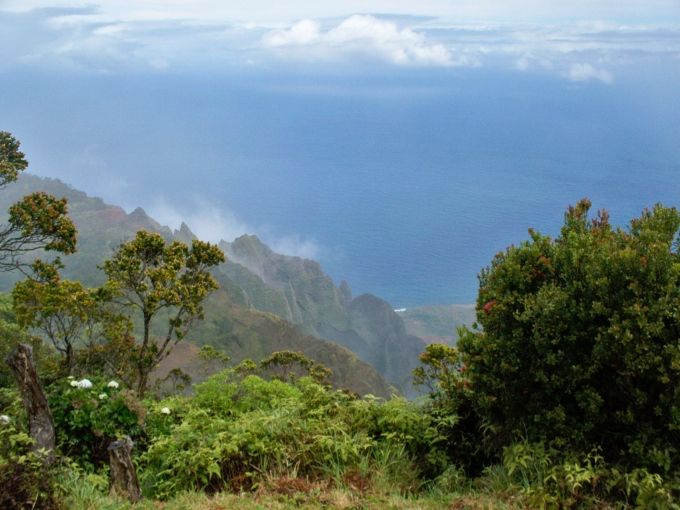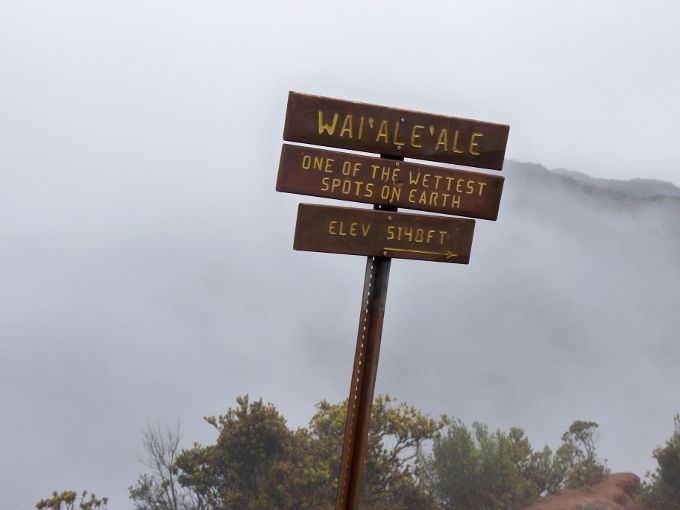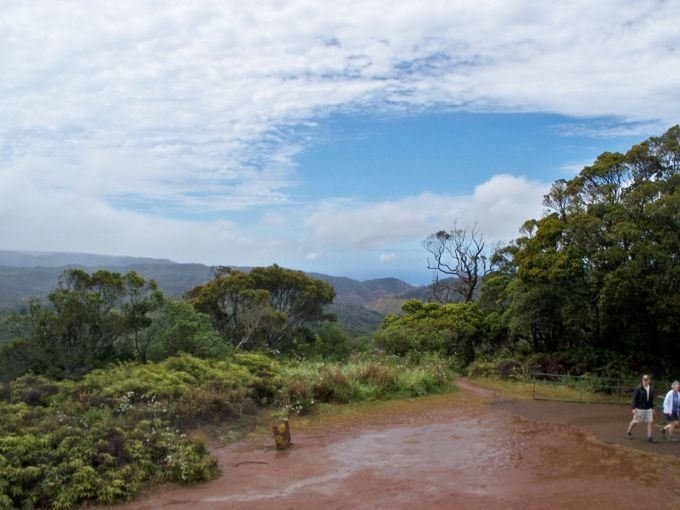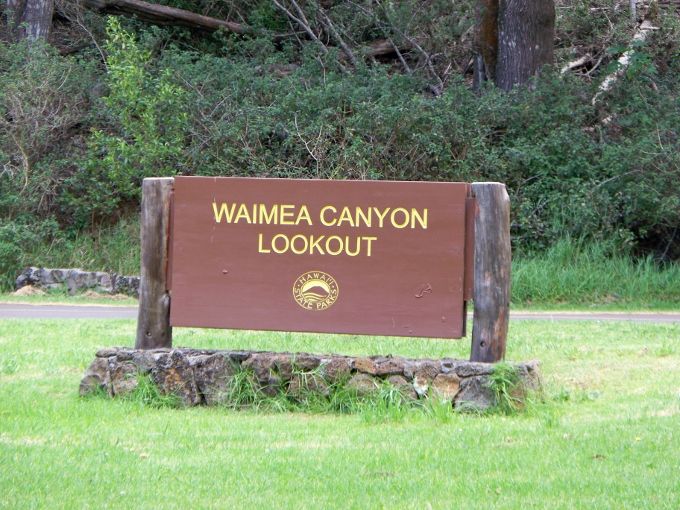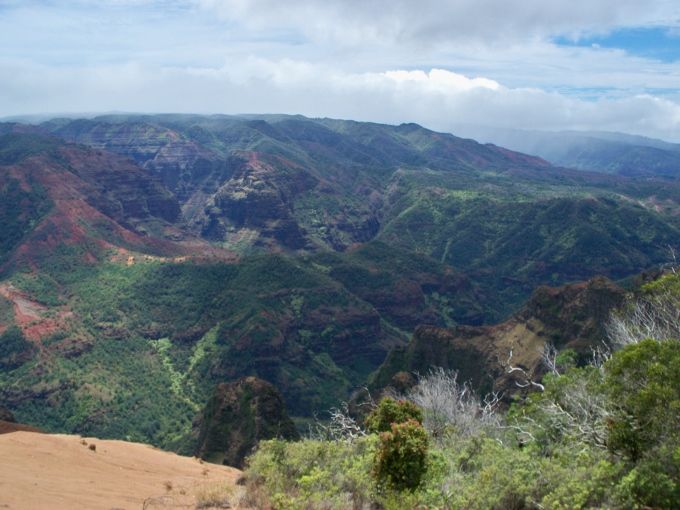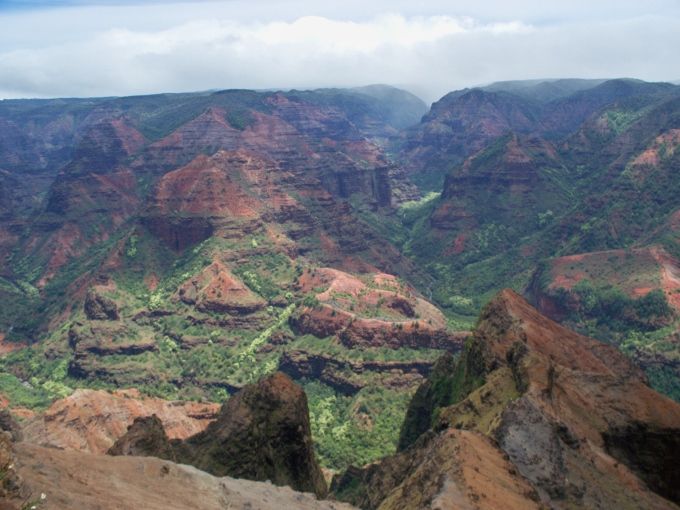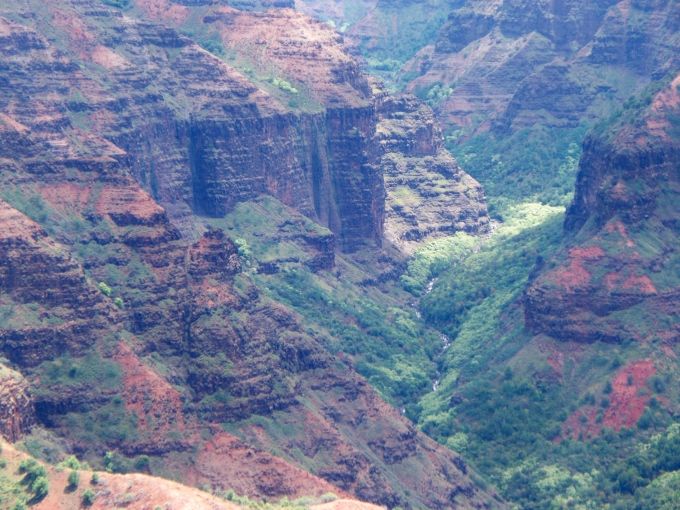 It was really blowing up there, could not keep my hat on: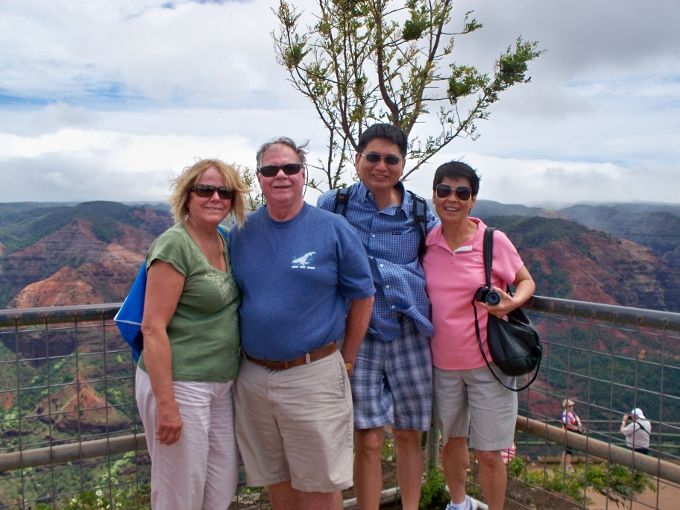 Going down from the canyon on the opposite side: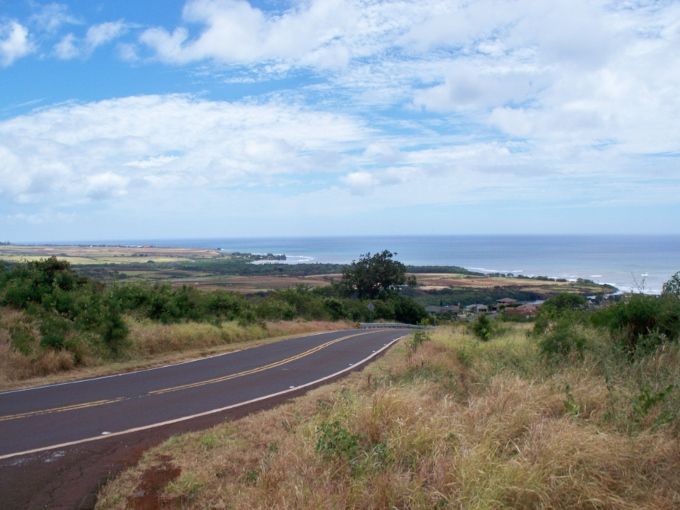 The river flows into the sea: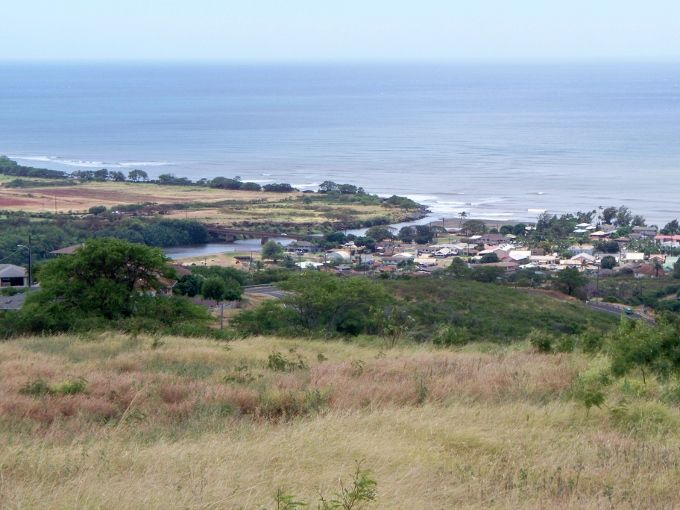 Obviously this side is more beautiful than the other side?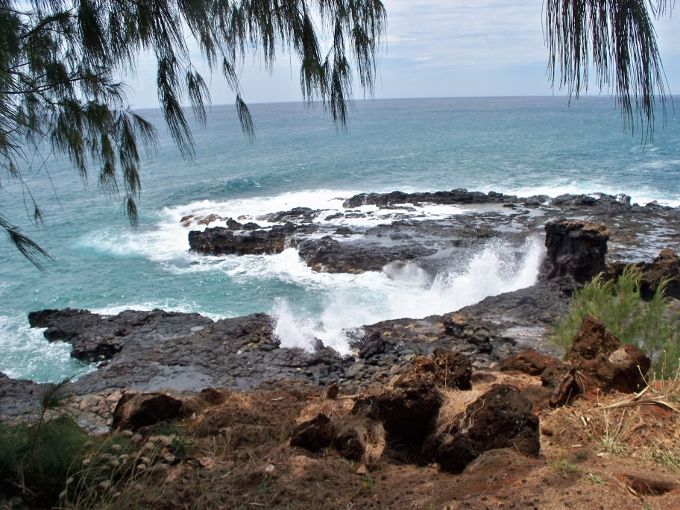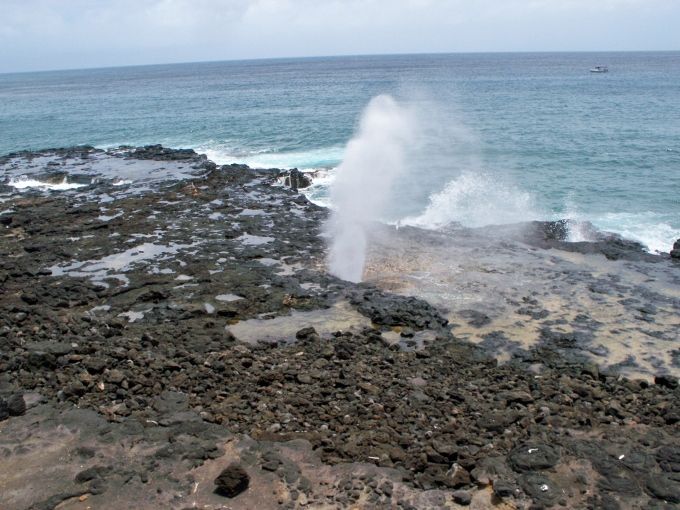 Waialua Falls: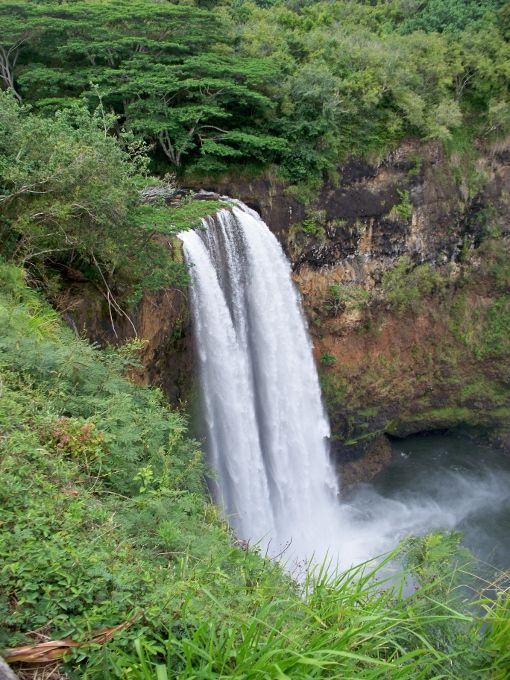 Returned to the ship around 5pm, left at 5:30 pm.
Leaving Kauai:
Our final dinner with our gracious hosts head waiter Flavio and Waitress Danielle: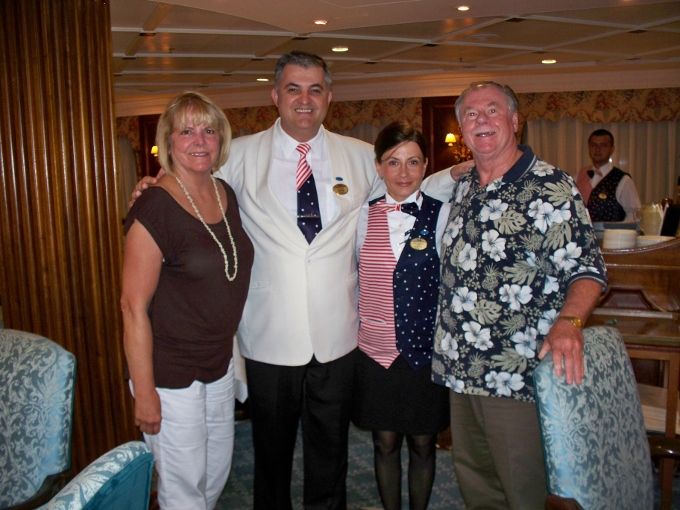 Day 13, Honolulu, Oahu Hawaii.
Land Ho: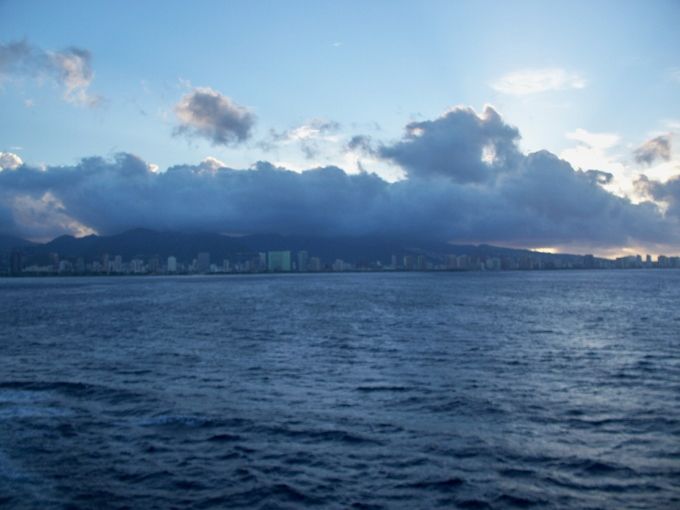 Entering the harbor with Diamond Head in the background: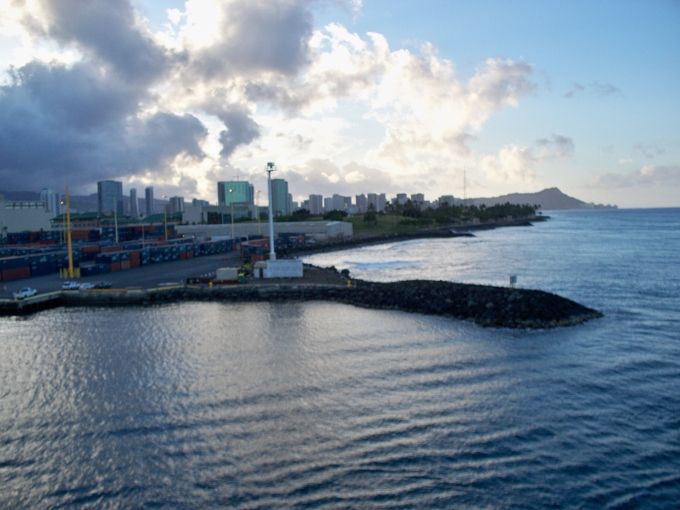 That all folks, end of the pictures! Abandoned ship at O 9:30 am and caught a cab to the airport. Flight at 12:30 pm, arrive LAX at 9:30pm, caught a Super Shuttle home in Diamond Bar by 11pm.
The End!