by Cory Visser
Thursday Recap Report-Weekend Possibilities:
A Summary of local fishing from Santa Monica to Oceanside, including Catalina and San Clemente Islands, with fishing trips out of San Diego down to Baja, Mexico.
The private boater finally got an opportunity to join the fun in Tuna fishing over the weekend, with fish within 25 to 30 miles of San Diego. The majority of the Tuna were
Yellowfin
and some good sized Yellowtail were also caught. Most of the Tuna are being caught trolling, with bait mostly limited to Anchovies or for those that choose to make bait (Mackerel) which they don't seem to want. The famous 425 Bank was the most productive area, anywhere within five miles south or southwest of the high spot.
There are areas of fish from 60 to 100 miles which are being pursued by the 1.5 day and longer trips with moderate success. A combined mix of 100 fish per boat which includes both species of Tuna and
Yellowtail
with an occasional
Dorado
thrown in. Boats leaving out of Long Beach, San Pedro, Newport Beach and Dana point have also gotten in on the action. Have not heard of any Tuna in US waters, other than a small Yellowfin Tuna caught in Newport Beach Harbor in a net?
I am stoked as I'm heading down to San Diego this afternoon to fish on the
Condor
on a 2.5 day trip that returns Sunday morning. The weather looks sensational!
How about Yellowfin Tuna inside
Newport Beach Harbor
? El Nino, yep!
¾ day boat
El Gato
out of San Diego finds the Tuna, Monday, 06-30-14:
And the beat goes on with a steady pick at the Islands, as fishing for Yellowtail and
White Seabass
continues, with both the
Channel Islands
and
San Clemente
having kicked out good counts on both species lately. Good fishing for Huge Halibut adds to the excitement.
Catalina
fishing for Yellowtail picked up a little bit with an occasional White Seabass in the mix. Calico Bass fishing has also improved.
Most of the
Barracuda
fished locally are being caught north of Newport Beach, there is a scattering of fish out of Long Beach and San Pedro. The
Twilight
trips have also picked up some nice Barracuda to go with the excellent night Bass bite. The bite in Santa Monica Bay also cooled off with some decent counts on any given day.
Daytime Bass fishing continues to improve, with some nice pockets of
Calico Bass
to go with the Sand Bass. The fish are getting ready to spawn and are loaded with eggs. The annual spawn should begin soon, as water temps as high as 70 degrees provides ideal conditions for spawning.
I fished with Lal on the
Rubber Ducky
and we caught over 100 mixed Bass, 80% Calico Bass to five pounds on Sunday, 06-29-14, all released, all on the plastics. We found water temps as high 71.5 degrees, unreal for early July? The Calico Bass were very active in the water column as we caught fish from bottom to within 15 feet of the surface. A few pictures:
Here I am with a nice 4+ pound Calico Bass: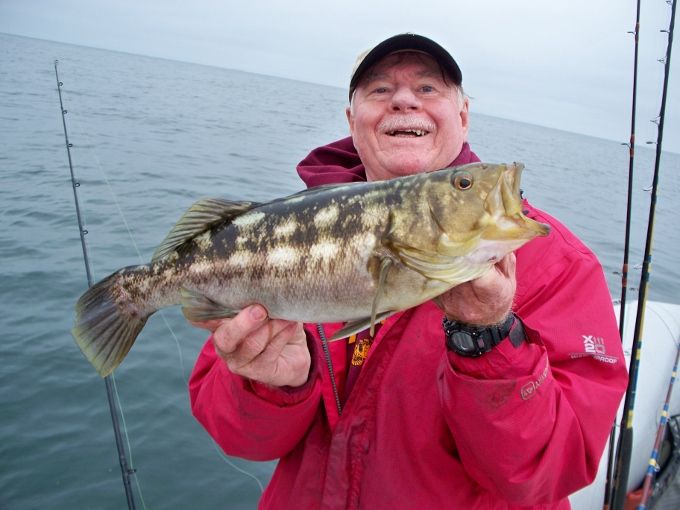 Here is Lal with a 5 pound
Sand Bass
:
Here I am with another 4+ pound Calico Bass: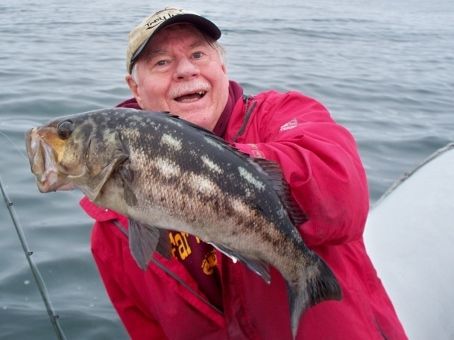 Lal with a colorful Calico Bass: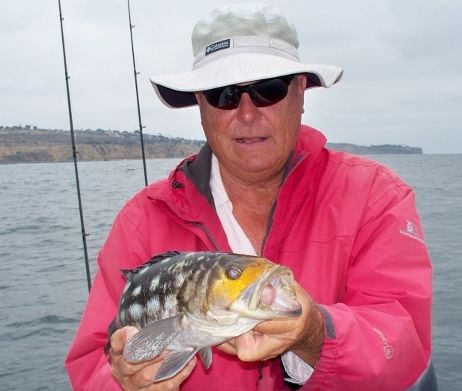 More quality Calico and Sand Bass: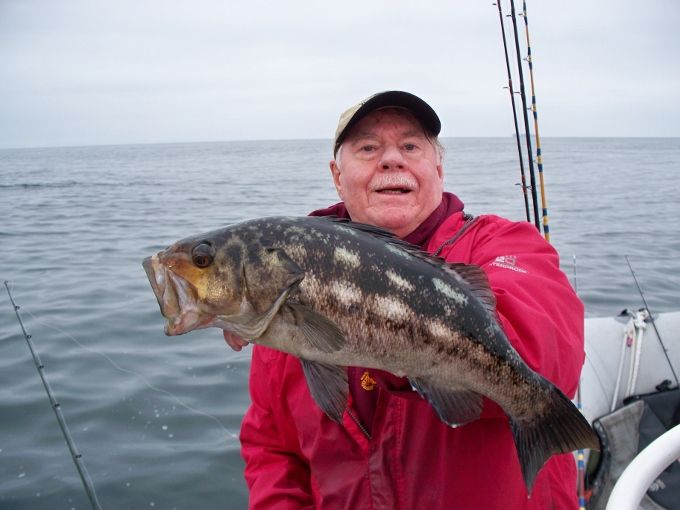 Fishing for Yellowtail at the
Coronado Islands
remained steady during the week with counts as high as 25 on the San Diego, Tuesday, 07-01-14, and the Malahini produced 11 Yellowtail with over 180 Barracuda, making for a fun day of fishing.
Private boater Brandon caught their limit of Yellowfin Tuna and some big Yellowtail:
A big Halibut for this lucky angler on the
Mission Belle
:
Fun fishing off the
Malihini
as they caught Barracuda and Yellowtail on their Monday trip, 06-30-14:
The
Thunderbird
out
Dana Wharf
on a 1.5 day trip that returned Tuesday morning, 07-01-14, caught 88 Yellowfin, Yellowtail and 1 Bluefin Tuna:
Private boater Brandon and family start the Tuna season off right with limits of Yellowfin Tuna:
Angler Tim with the jackpot Yellowfin Tuna:
Angler Mario with a nice Yellowfin Tuna and Dorado caught off the
Condor
over the weekend:
Limits of Yellowfin Tuna for the Tribute over the weekend:
Private boater Adam with a
Tanker White Seabass
out of
Dana Point:
Private boater Bobby and friends fishing out of Santa Monica caught these big Sand Bass and Calico Bass Monday, 06-30-14:
Another great day of White Seabass fishing, off the
Mirage
, Monday, 06-30-14:
More big Halibut on the Mirage:
Now this is a big Halibut:
Monster Sheephead caught locally out of Dana Wharf Sportfishing:
Private boater Evan with a PB 11 pound Calico Bass caught, Tuesday, 07-01-14:
Private boaters Bobby and Anthony with some Dandy Sandies:
Pretty ladies who fish or maybe not:
Anyone want to play Volleyball?
Or go to the beach?
Private boater Brandon with a Tanker White Seabass caught locally:
Big Halibut to 50+ pounds on the
Ranger 85
this weekend:
A 50+ pound White Seabass, the biggest of 17 caught on the
Pacific Dawn
on Tuesday, 07-01-14:
They also caught this big Halibut:
The Islands
Catalina/Santa Barbara Island!
The
Sport King
has been catching a few Yellowtail on their trips to the island, with decent Calico Bass fishing and some Barracuda. So has the
Pursuit.

Angler Jeff and friends with a good day at the Island on the Charter boat
Dreamer
, Tuesday, 07-01-14:
Private boater Blanca with a Saturday night special White Seabass:
San Clemente Island!
Good Calico Bass fishing with Charter Master Benny at the Island:
Angler Mitchell with a 40 pound Yellowtail, caught Sunday, 06-29-14:
Angler Larry with Jackpot Yellowtail caught off the
First String
on their 2 day trip over the weekend:
Private boater Brian with a nice Halibut aught at the Island, Sunday, 06-29-14:
Down South-San Diego and good ole Mexico!
Angler John with a nice Halibut caught on the
Dolphin
, Sunday, 06-29-14:
Oh yeah and the Calico Bass are biting:
A big Lingcod:
And some Halibut off the Dolphin"
This Yellowtail was close to 50 pounds, caught on the Pacific Star:
Some Yellowfin Tuna caught on the 1.5 day trip over the weekend on the Eclipse:
Captain Duane of
Seasons Sportfishing
starts the Tuna season off on the right track with limits:
Captain Kelly of
K&M Sportfishing Charters
out of
San Quintin
had another good catch on the Yellowtail over the weekend:
All comments and suggestions welcomed!
Weather
The weather forecast for Friday and Saturday looks fantastic! Always check the latest forecast before leaving the dock.
Hook Up,Cory