by Cory Visser
Thursday Recap Report-Weekend Possibilities:
A Summary of local fishing from Santa Monica to Oceanside, including Catalina and San Clemente Islands, with fishing trips out of San Diego down to Baja, Mexico.
The local fishing for
Tuna and Tails
from
Dana Point
to
Long Beach
took the week off! Not sure why, with water temps as high as 77 degrees. The fish just seemed to move back down south. Fishing in US waters offshore remained stellar, closer to the border and out west between the
43 Fathom Bank
and
San Clemente Island.
More and more
Dorado
are being caught, yet nowhere near the levels in the past when the water temps were this high. However, it is still very early, and I expect a lot more Dorado will arrive in August and remain through September?
As far as below the border goes the
Yellowfin Tuna
and
Yellowtail
fishing remains
Wide Open
, with sensational counts found on ¾ day boats, one day boats and longer trips! Even the extended half day pm trips on the Dolphin have produced some outstanding results.
Bonito and Yellowtail
at
Catalina Island
has been exciting lately. Bonito have also moved into Santa Monica Bay as well as off San Pedro and Long Beach.
The weekend boat pressure put the hex on close to shore fishing, yet those that ventured a little further out away from the maddening crowd got the job done!
For example I went fishing with Captain Dave on his 28' Farallon
"Hooked"
out of
Newport Beach
Saturday, 07-26-14. We fished offshore some 44 miles offshore, west of the 43 Fathom spot and we found a Kelp Paddy holding Yellowtail, Dorado and a few Yellowfin Tuna. A few miles further we came upon a school of Yellowfin Tuna and shut the boat down. Dave threw out some chum and we had boils all around the boat for three hours. We ended the day with 13 Yellowtail and 13 Yellowfin Tuna. We only had Pinhead Anchovies for bait, Had we had better bait we would of plugged the boat! Some pictures: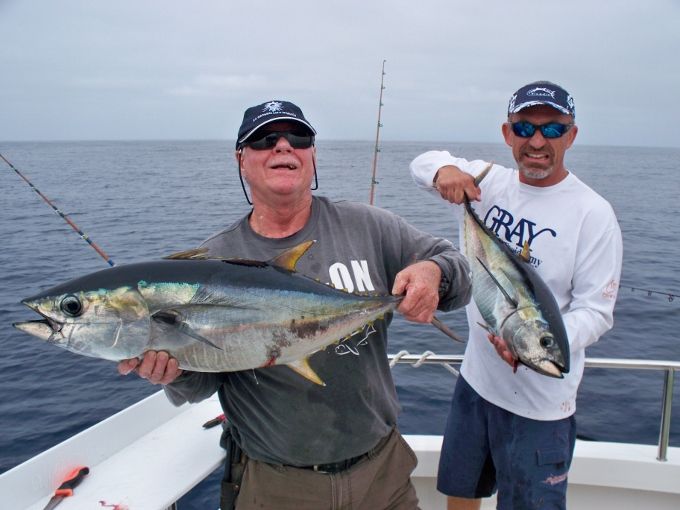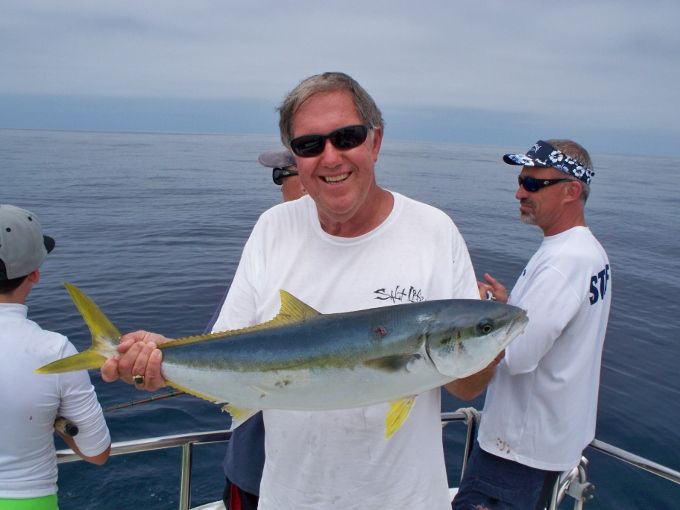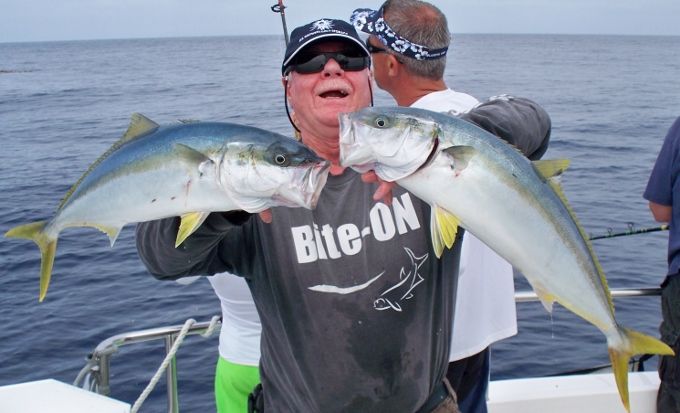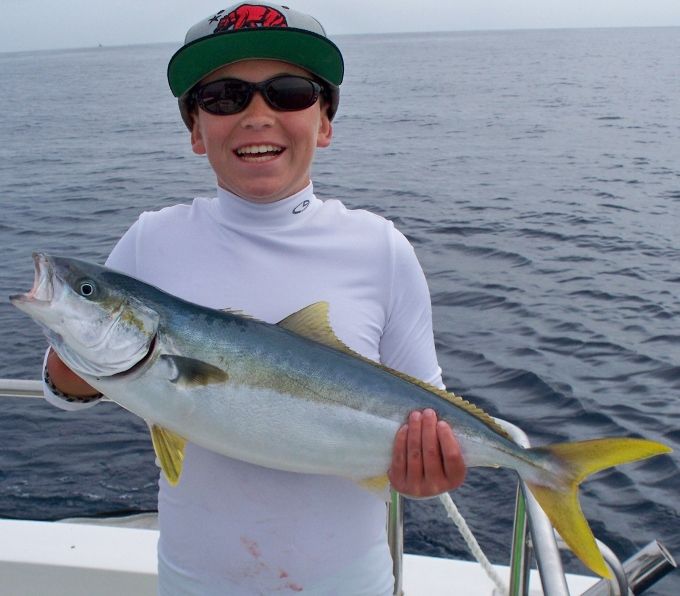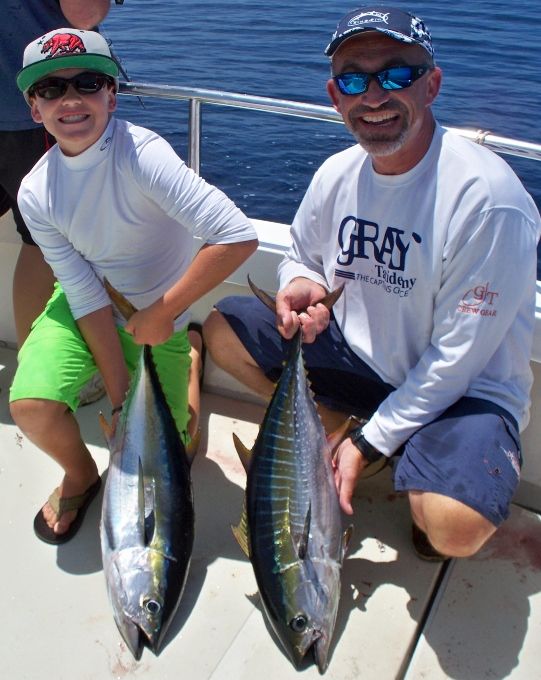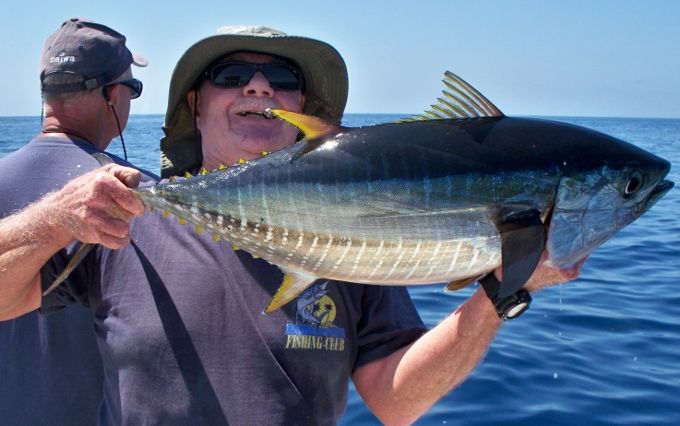 So far it has been an unbelievable season for Tuna and Tails, being both so close to shore, and also offshore.
A couple days of decent
Barracuda
fishing by the ½ day boats out of
San Pedro
happened mid-week, yet has slowed since. Bass fishing is sort of hit and miss and no sign of the annual spawn is apparent?
I would have to say another huge surprise for the year, which has been mostly overlooked with such spectacular fishing elsewhere, is the consistent
White Seabass
fishing at the
Channel Islands
, along with numerous huge
Halibut
still being caught in late July!
How about a young angler catching a 100 pound Bluefin Tuna off the
Producer
out of San Diego, Wed.-07-30-14:
Private boaters nail the big Bluefin Tuna:
Private boater Cody with a couple of nice Tuna:
Nice Tuna and Tails off the
Aztec and Pride
over the weekend:
Now this is what you need to find first thing in the morning away from the maddening crowd:
Some slug Bluefin Tuna caught off the
Fortune
, Sunday, 07-27-14 and Monday, 07-28-14:
Anglers Scott shows off Bluefin and Yellowfin Tuna caught off the
Grande
that returned Monday, 07-14-14:
Angler David with an
Opah
caught off the
Fury
, Sunday, 07-27-14:
¾ day boat
El Gato
out of San Diego finds the Yellowtail and Tuna on the chew, Wednesday, 07-30-14:
Private boater Captain Steve with crew and a whole lot of Yellowtail and Yellowfin Tuna caught Sat.-07-26-14:
Big Bluefin Tuna caught on the
Outer Limits
over the weekend:
Happy anglers with 72 Yellowtail and 7 Tuna caught off the
Malihini
on their Monday trip, 07-28-14 and 161 Yellowfin Tuna on Wed.:
Mission Belle
scores 120 (limits) on the big Yellowtail, Saturday, 07-26-14:
An 80 pound Bluefin Tuna caught off the 3/4 day boat
San Diego
Saturday, 07-26-14:
The San Diego caught 187 Yellowfin Tuna on their Monday, 07-28-14 trip:
Angler Carolyn with her first Bluefin Tuna:
Good fishing off the
Tribute
on Saturday, 07-26-14:
A couple of great reports out of
Dana Wharf Landing
!
Great Tuna fishing on the ¾ day boat
Clemente
on Mon.-07-28-14, with angler Jimmy and his 28 pound Yellowfin Tuna:
Angler fishing on the
Dana Pride
caught Yellowfin Tuna and one Bluefin Tuna, Sun.-07-27-14:
The
Thunderbird
out of Dana Wharf with a 50 pound Bluefin Tuna, Sunday, 07-27-14:
The T-Bird caught 166 Yellowfin Tuna, 57 Bluefin Tuna, 5 Dorado, and 126 Yellowtail on their 2 day trip that returned Wed.-07-30-14:
Jackpot and other Tuna on the
Fury
:
Twilight
fishing out of Long Beach on the
Liberty
, Saturday, 07-26-14 with over 100 Sand Bass:
Then they went Tuna fishing on the Liberty:
Pretty ladies who fish or maybe not:
The sensational fishing at the
Channel Islands
continues:
Another great day of fishing, off the
Mirage
, Saturday, 07-26-14:
Huge Halibut:
And on their Monday trip, 07-28-14:
A bunch of Halibut and some White Seabass off the
Sea Biscuit
Saturday, 07-26-14:
Lots of White Seabass and Halibut being caught on the
Pacific Islander
on Saturday, 07-26-14:
The Islands
Catalina/Santa Barbara Island!
The
Sport King
and the
Pursuit
when not fishing offshore have found some good Bonito bites, with some Yellowtail and Calico Bass.
San Clemente Island!
Private boater Dave fished the island with friends on Tuesday, 07-29-14 and slayed the big
Calico Bass
to 7 pounds. They released well over 100. The Bass bit the iron, Plastics and inhaled the nice Sardines they had on board for bait.
Down South-San Diego and good ole Mexico!
Good fishing on the
Dolphin
, Saturday, 07-26-14 and more good fishing throughout the week:
All comments and suggestions welcomed!
Weather
The weather forecast for Friday and Saturday looks fantastic! Always check the latest forecast before leaving the dock.
Hook Up,Cory