by Cory Visser
Thursday Recap Report-Weekend Possibilities:
For local fishing in the Santa Monica, Long Beach, Catalina and San Clemente Islands, with trips out of San Diego and Baja, Mexico.
Gad, talk about a bust of a week for reports and fishing. With Windy weather over the weekend, more rain and wind on Monday and Wednesday, still blowing on Thursday, not exactly ideal conditions for fishing and reports?
I did pick a good weekend to head north to Monterey last Friday, or should I say my better half did. If I wasn't going fishing due to the weather anyhow, then I might as well please the wife? The 7 hour drive north on Friday was in sunny clear skies, and the return trip on Sunday after leaving Carmel and Pebble Beach clouds, was also sunny and clear. In between we stayed at the rustic Asilamar Lodge in Monterey Bay over the weekend, walked the scenic boardwalk, visited the Aquarium, and I drooled and dreamed of hooking the 50 to 60 pound Bluefin and Yellowfin Tuna in the big Tank. If you've never been there it is quite a spectacular experience. I especially enjoyed the Sea Horse display, as you have not lived until you observe the Leafy Sea Dragon Seahorse in person?
Since Tunahead Ron already got front page honors for his great report on the 2.5 day trip on the
Indian
, I can comment on the 1.5-day trip on the
Constitution
. They did well despite high winds and heavy seas. Some pictures, courtesy of Chris, who won the Jackpot with a big Red:
The
Pacific Voyager
and
Voyager
both ran 1.5-day trips over the weekend, and scratched out limits of fish, complemented by filling the sacks with big Whitefish.
The Halibut fishing this winter continues to exceed expectations and has drawn a lot more interest from private boaters. Private boater Gary was one of the few to brave the windy conditions on Saturday, 02-11-12, out of Long Beach solo. He caught some shorts, some Sand Bass and Sculpin and this dandy Halibut:
The Yellowtail fishing off at La Jolla shut down with the lousy weather, as the ½ day boat
New Seaforth
has not caught anymore Yellowtail since a week ago Sunday, 02-04-12.
There are a bunch of boats scheduling 2 to 3 day trips this weekend which is a Holiday weekend with Monday, 02-20-12 being President's day. I'm scheduled on the 2.5 day
Aztec
trip leaving tonight, 02-17-12 out of Seaforth Landing in Mission Bay at 5pm, returning Monday morning. There are still a few spots open, so come on down and join me! Call Captain Mikey 619-818-5664 for details and reservations.
For Rockfish fishing it is all about Mexico until March 1st.
The local boats are doing well on catching Sculpin in the morning, with afternoon fishing concentrated on finding Bass on the structure. Despite poor weather conditions several local boats found the Bass fishing very good.
Twilight fishing:
The
Slammer
out of Redondo Sportfishing ran a trip on Saturday, 2-11-12, with 3 anglers catching 20 Sand Bass, 3 Lobster, 40 Rock Crab and 3 Spider Crab. The
Native Sun
ran a trip Friday night, and caught some nice Mixed Bass. Some pictures courtesy of Raul:
In Santa Monica Bay
The
Tradition
ran ¾ day trips over the weekend, catching limits of Sculpin in the morning, and then they added a good assortment of Calico and Sand Bass in late morning and early afternoon. Some pictures from Jackpot Jimmy's trip on Saturday, 02-11-12:
Ray with a big Sand Bass:
And a big Calico Bass: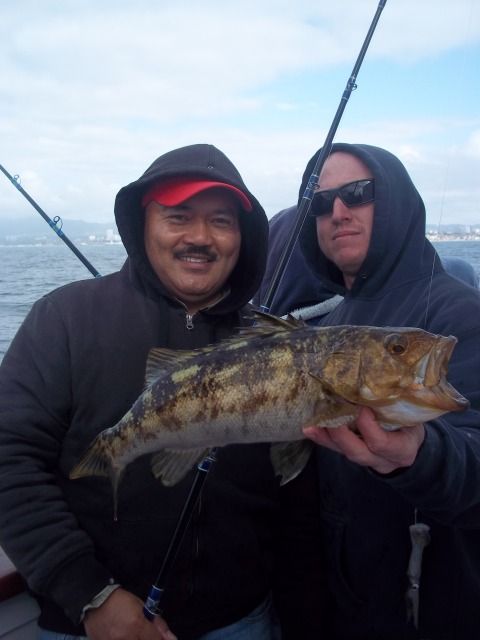 Eli with a Calico Bass:
Jackpot Jimmy was back out on Sunday, and had another score of Limits around on the Sculpin, and great Bass fishing. More pictures: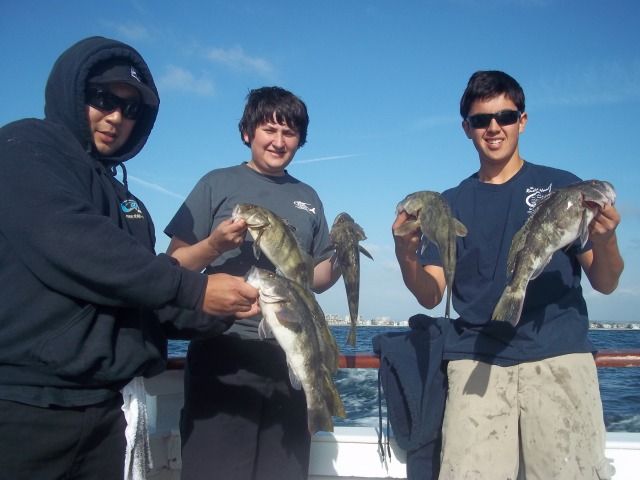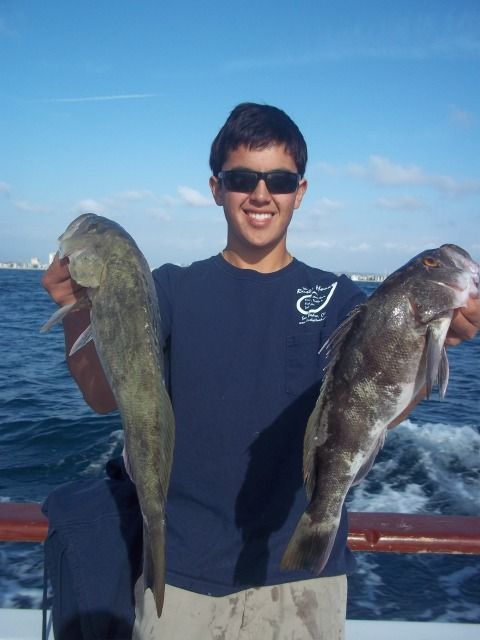 The ½ day boat
New Del Mar
continues to have great success targeting Bass and Sculpin. The
New Del Mar
caught 11 Calico Bass, 44 Sand Bass and 265 Sculpin (limits) on their Friday, 02-10-12 trip.
Newport Beach and Dana Point.
The ½ day boat
Patriot
out of Newport Landing ran a trip on Tuesday, 02-14-12 and caught 31 Sand Bass and 8 Sculpin for only 8 anglers.
The ½ day boat
Clemente
out of Dana Point ran a trip on Saturday, 02-11-12 and caught 1 Halibut, 10 Calico Bass and 7 Sand Bass .
Long Beach and San Pedro
The 1/2day boat
City of Long Beach
had their best trip this week for Sand Bass and Sculpin on their Saturday, 02-11-12 trip, with 15 anglers catching 33 Sand Bass and 29 Sculpin.
The ½ day boat
San Pedro Special
out of 22nd Street Landing caught 3 Calico Bass, 31 Sand Bass and 3 Sculpin, on their Monday, 02-13-12 trip.
The ¾ day boat
Sport King
out of LA Harbor had their best trip this week for mixed Bass on Saturday, 02-11-12, as 15 anglers caught 17 Calico Bass, 57 Sand Bass, 5 Sculpin and 30 Perch.
The ¾ day boat
Sea Angler
out of 22nd Street Landing ran a trip on Monday, 02-06-12 and continues to slam the Sand Dabs, catching over 2000!
The 1/2 day boat
Matt Walsh
out of LA Harbor caught 62 Calico Bass, 17 Sand Bass, 12 Sculpin and 3 Perch for only 13 anglers on their Friday, 02-10-12 trip.
Private boater Glenn hopped aboard Captain Dean's Skipjack on Saturday, 02-11-12, and caught several good sized Halibut: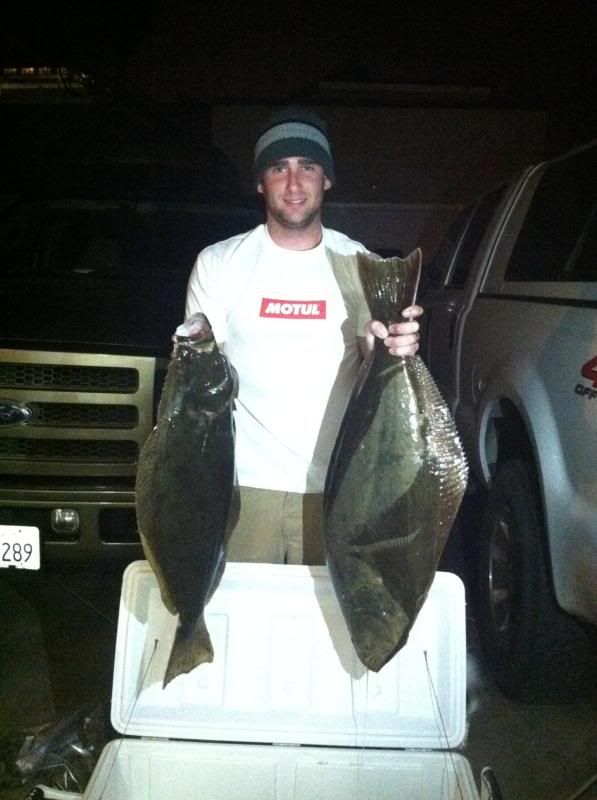 The Islands
Catalina/Santa Barbara Island!
No reports this week.
San Clemente Island!
No reports this week.
Down South-San Diego and good ole Mexico!
No fishing on the Indian on Wednesday, as they cancelled due to low reservations and poor weather.
Not much else happening until re get some better weather.
All comments and suggestions welcomed!
Weather
The weather forecast for the weekend looks decent for Saturday and turning ugly on Sunday, darn? Always check the latest forecast before leaving the dock.
Hook Up,
Cory