Discussion Starter
·
#1
·
WOW what a great fishing trip.
I was down at the Newport Bayfront and saw the advertisement for a 12 hour Halibut trip at Captains's Reel Deep Sea Fishing. I stopped in and chatted with Dawn at the front desk. She explained there were 5 booked, leaving at 6:00 am Thursday the 12th. I told her I needed to check with my wife to see if we had anything going that day. I was a little hesitant because the fishing reports were stating smaller grade of fish 28-38". I caught up with my wife and got the "Yeah go, why are you asking me?"
So back at the office I meet up with Glenn, one of the owners, and ask about the grade and bite. He tells me that they throw back smaller fish and they have been having great sucess. So I book the trip.
Arrive at the dock at 5:30 am. Glenn tells me we are going on the Ocean Captain, a 47 footer. This boat is nothing fancy but is well equiped, clean and a pure fishing boat.We have 10 passengers, including myself.
I am the only one with my own gear, a Avet EX 4/0 2 speed with 120lb Power Pro, with an 8 foot, 80lb mono leader. This on an 8 foot Seeker 6480 rod. For terminal tackle I used a spreader bar with a 24oz ball weight and 7/0 hooks slider system. I was pleasantly surprised as the boat rods were in good working condition, and good quality. Penn Senators equipped with dacron or braid. Terminal tackle consisted of swivels, 32 oz weights and 7/0 hooks or larger. Glenn explained to me that they catch and cure their own bait. The bait is frozen, salted and is very tough. Tough bait is good as you do not want to be changing bait that often due to the fact we are fishing 600 feet deep, yes 600 feet.
Before we depart Capt Shannon gives a detailed safety speech, followed by a fishing seminar, by James, the deckhand. We cross the bar and into very smooth seas. 2 hour ride, talk with the deckhand, Glenn and Mike Stowe who also is one of owners.
We arrive at the Chicken Ranch at approx 8:15 am. Capt Shannon checks the drift, and then says "drop em". Glenn is fishing next to me. 20 seconds after we hit the bottom Glenn is hooked up and brings up an nice Halibut. 30 minutes later I and 3 others are hooked up. As I am bringing it up it starts to feel wierd. There is a 3 way tangle, two fish hit the deck, then mine. I get handed my terminal tackle, line cut and am told it was too small. No problem I have all day.
I finish retying my set up and send it back down. 30 minutes later we are told to pull em up time to reset. We are reset and I send my rig back. 5 minutes go by and I get hung up on the bottom. Finally get it loose and bring it back. 600 feet of line is a long wind up, glad I have my two speed reel. Grab a fresh bait and back down. 5 minutes and the rod gets slammed, at first I thought it was hung up again until I felt the head shake. The the fight began. At times I gained and other times the rod would not budge, pull up, wind down. My arms are getting tired and my cranking hand is getting numb. Finally someone yells "Color" Capt Shannon, James, Glenn, and Capt Stowe are there, two gaffs and it hits the deck. I had to sit down to gain my breath, Crew has their back to me and are saying, "Are you sure you want this fish?". I knew it was a nice one and being spent I said hell yes.
I finally gained enough energy to get off my ass and go the kill box. Holy crap, the tail and head were hanging out. The measured it a 53 inches.
My adrenalin was still going so I fished a little more, but no takers. We limited out at about 1:30 pm and headed for the barn.
The wind had picked up so we had some chop. I learned a valuable lesson, wear Some bibs and rubber boots. I had a good sea jacket, but jeans and tennis shoes. If you were on the deck you were getting wet. So word to the wise, dress for the occasion. We hit the docks at about 3:30pm. The fish are unloaded and set out for photos. Glenn wants to see what the fish weighs so up on the scale it goes, woohoo 64lbs.
There is a fillet station at the dock. Dickey fillets my fish, man what a bunch of nice Halibut to take home.
On my drive home it hits me, I have just caught a "Personal Best", later that night after a shower I realize that fish kicked my ass. I am sore and tired.
Thanks to Glenn, Mike Stowe, Capt Shannon and crew, for an unforgetable trip. You folks run an exceptional operation. Also thanks to the front office for being very courteous and helpful. I will be back !!!!!!!
Here are some pics, Glenn is in the orange slicker.
Coming into Port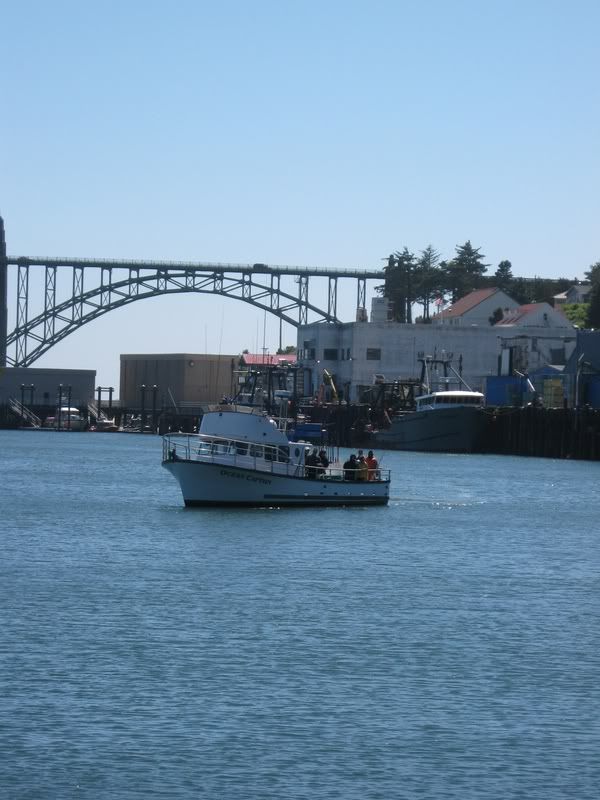 Personal Best