Discussion Starter
·
#1
·
Was checking out the tide log at the shop yesterday afternoon and saw that the tides would be perfect for a shot a nice corb at Spot X this morning. So after seeing that I jammed to the SC spot after work yesterday and made my 50 SC's in 10 to 15 min and headed home to watch the Lakers blow game 4. Got up at 3:50am and got my morning coffee and headed to spot X ( It should be called spot ZZZZZ LOL!!!). Arrived before sunup to overcast skies, light winds, 2 to 4' swell and no other anglers. started working and scouting the area. Within 10 min I see what I'm looking for, a nice fatty working the skinny 30' above me. Spent the next hr trying to get him to bite. Finaly at 6:30am he hits the bait. Tap Tap and I drop the rod tip and reel reel reel untill I feel the line go tight and then the drag start's to scream !!!. Right off the bat I feel big head shakes and a ton of weight. Spent the next 35 min battling the sucker and trying to get him on the beach. Finaly at around 7:05 to 7:10am I succeded. The corb taped out at 25 1/2 and was fat as &%#@%!. Unfortunately I couldn't keep the soft tape straight for a picture and rather than leave the fish out of water and keep trying I just took a couple of quick pics and released it to fight another day. Here's a pic of my new PB corb length and weight wise.
Bean in shock LOL!!!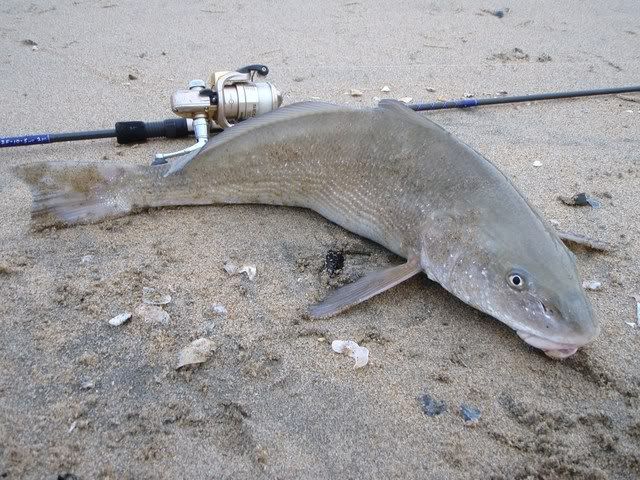 25 1/2 inches of beast corbina on steriods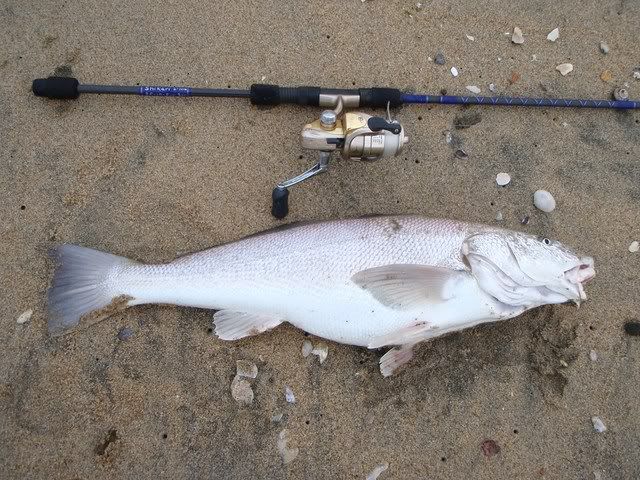 Caught on the noodle rod and the usual setup.
Tight lines,
Behdad